When I say "self-care", what's your first reaction? Most of us have heard of it, many of us hate something about it, some of us misunderstand it, and all of us need to practice it anyway.
I write a lot about the good life as a multipotentialite, but a multipotentialite life can also be draining when we pursue it at the expense of our basic needs. That's where mindful self-care comes in. Researchers Catherine Cook-Cottone and Wendy Guyker define mindful self-care as "an iterative process that involves (a) mindful awareness and assessment of one's internal needs and external demands and (b) intentional engagement in specific practices of self-care to address needs and demands in a manner that serves one's well-being and personal effectiveness." (2018)
They name six domains of mindful self-care:
mindful relaxation
physical care
self-compassion and purpose
supportive relationships
supportive structure
mindful awareness
When you look at that list of six domains, are you surprised to see any of them on that list? When I first started teaching about mindful self-care, I felt very smug that I was aceing self-care until I realized that self-compassion and supportive relationships were also on the list. Then I realized I had more to learn.
You can read more and download the Mindful Self-Care Scale on Dr. Cook-Cottone's website, where she describes herself as an educator, author, yoga teacher, and psychologist…is it just me, or does she sound like a multipotentialite to you, too? The scale gives you all sorts of ideas about the practices you can try to take a multipod-style approach to self-care in your life, where mindful self-care is as multi-dimensional as you are. 
Now that I've given you the academic introduction to mindful self-care, let's break down some of that jargon, and explore why this approach to self-care might be a great match for a multipotentialite like you.
Mindful self-care is iterative
In order to stay well, we need to return to self-care over and over. That's why I call it a "practice." It's not a one-and-done kind of deal. Each time we practice self-care, we are changed by it, which influences the impact that self-care has on us the next time.
As a multipotentialite, you're probably quite familiar with iteration. For example, I might be working on an anti-racism presentation one day, then get called away to (or distracted by) a different project, for example an article about mental health literacy. Then, something I discover or remember about mental health literacy causes me to see my anti-racism work differently. I might build on my presentation by integrating some content about mental health (for example, racial mindfulness). Or it might cause me to start all over again. (For example, I realized that I needed to teach about dealing with difficult emotions—including guilt and shame—before I could teach about complicity with racism).
To me, that's the very best part about the process of iteration—it always makes the product better, but I can never predict it in advance. The same is true for self-care. You can't predict how each self-care practice will make you feel until you just do it. And sometimes a particular practice will hit the spot because of what is going on in your life in that moment, and then the next time you'll find that you need something completely different. Or you'll get comfortable doing the same kind of self-care over and over (e.g., going for a run) until you realize that something is off because there are other parts of self-care that you have consistently neglected (e.g., kindly acknowledging your own challenges or allowing yourself to cry—yes, that is on the psychometrically evaluated scale!)
Mindful self-care keeps you aware of what's going on inside and outside
Judging by the letters we receive in our Dear Puttylike inbox, multipotentialites can struggle with tunnel vision. Don't get me wrong—I'm not (just) talking about hyperfocusing on one project while letting other projects slide for a while. I'm also talking about multipotentialites who are managing to balance multiple projects but are also wondering why their physical and/or mental health is taking a nosedive. (This also includes folks who think they are just fine, but have others in their life who strongly disagree.)
Taking a mindful approach—or paying attention to the present moment without judgment—gives you space to notice things in your life that need some TLC. That's why self-compassion is a key component of mindful self-care: It is allowing ourselves to notice what's up, and giving ourselves permission to do something (kind) about it.
Mindful self-care is what you do for yourself, but not (always) by yourself
Many people object to self-care because they've always heard it described as a solo activity. If you're an introvert like me (I love people but they drain me), you see no problem with this. However, if you are an extrovert—someone who recharges by being around other people—or if you are willingly part of a collectivist culture, this makes no sense to you.
When I am feeling depressed, I remember the words of S. Kelley Harrell: "We don't heal in isolation, but in community." Mindful self-care takes this into account. In Cook-Cottone & Guyker's model, self-care is incomplete without supportive relationships. Supportive relationships are still considered self-care because they benefit you, but this is one type of self-care that you simply cannot practice alone.
Mindful self-care starts—but doesn't end—with you
If you're like me, you may have been taught that giving any attention—never mind care—to yourself is "selfish." Take a look at what Restorative Counselling Chicago has to say about that:
"Being selfish means there's a desire to take from others, often to their detriment. However, self-care is about replenishing your resources without depleting someone else's."
They also quote Parker Palmer: "Self-care is never a selfish act—it is simply good stewardship of the only gift I have, the gift I was put on earth to offer to others." In fact, the act of intentionally seeking out experiences that are meaningful or allow you to live your purpose is also a key component of mindful self-care. What a dream come true for us multipotentialites!
So, dear multipotentialite, what were you put on earth to offer to others? What gifts have you been given? (I say "gifts" because as a multipotentialite, I know you have more than one.) Mindful self-care is taking good care of those gifts, especially if you are used to caring for everyone else but yourself. That's because mindful self-care interrupts the tendency to let yourself give everything away until you run on empty. If you've ever experienced the feeling of being drained, you know that it takes double the effort and energy to recover from that and be useful to anyone—including yourself—again.
Mindful self-care is more than one thing—just like you
In sum, being mindful about practicing self-care is so much more than taking a bubble bath once in a while. (But if a bubble bath is what you need tonight, that's exactly what you should do.) Self-care is not selfish, and it's not self-indulgent either. While self-indulgence is giving yourself short-term pleasure at the expense of long-term harm (I learned this from Kristin Neff), self-care is about promoting your well-being by choosing to tend to your physiological and psychological needs. Even the most independent among us have more than one need, so it's time to consider more than one way to get those needs met.
Your turn
What are some myths that you used to believe about self-care? As multipotentialites, we're used to thinking expansively and creatively. What happens when you take this approach to the way you practice self-care?
Doing/being/exploring ALL THE THINGS is easier with a community!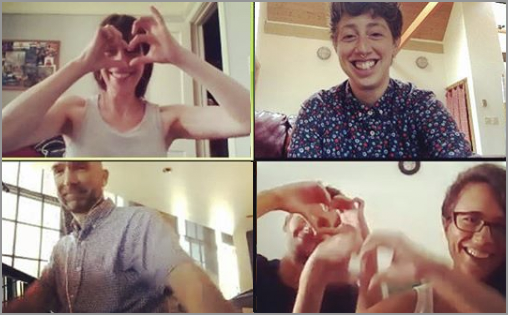 Did you know we have a private community of hundreds of multipotentialites from around the world? We support each other, share advice and cheer each other on as we building lives and career around ALL our passions.
Learn more about the Puttyverse and get notified next time we open the doors: