"Oh, great. Another story about depression."
Listen, I hear you. Depression is everywhere. It's in our Twitter feeds, on our podcasts. Even our favorite Queens in the North are talking about it.
But you know what's worse than hearing about how everyone is depressed? Actually being depressed, week after week, month after month. Constantly forgetting what you're doing. Getting lost on short, routine trips to the grocery store. Finding yourself exhausted after sending one stupid email.
As an ambitious multipod who wants to do everything, I often tell myself if I pretend the depression isn't there, I can try to get some stuff done. But working when you're depressed feels like trying to jog underwater. As fast as you try to go, there's something holding you back. And somewhere, beneath your shrunken hippocampus, your ambition and creativity are screaming. You want to move, but you can't.
As perpetual novices, multipods are often in the process of trying new things outside of their comfort zone. This sounds exciting, but when you're depressed, it's oddly unpleasant—like someone asking you to go to a concert when you have the flu. You think you want to, but your body is like, nope.
When you're depressed, you feel easily overwhelmed and completely underwhelmed at the same time, which makes it easy for self-doubt to take over—the possibility of taking on a new project seems even more impossible, and the benefit of doing so seems pointless. Multipods are often torn between many options, and as psychologist Gail Post puts it in this blog post, choosing can be quite the existential burden—which is especially fun when you're depressed!
As a freelance multipotentialite who writes, teaches, and dabbles in some other random stuff, I often miss having a standard 9-to-5 job when I'm depressed. I just want someone to tell me what to do. Creating structure as a self-employed person requires clarity and insight, two things that don't come easily when you're depressed.
For me, it's helped to create and stick to a routine as much as possible. I won't pretend to have the answers, but I can tell you what works for me (aside from a good therapist and a supportive network of friends and loved ones).
Disclaimer: I should point out that there are different degrees and types of depression. The following assumes you're functioning at work with depression. But this is certainly not a substitute for a medical professional's help when you're in a really dark place. If you fall under the latter and don't know where to start, the Substance Abuse and Mental Health Services Administration has a national helpline: 1-800-662-HELP (4357).
Working in smaller increments
Try to work on small tasks in focused bursts. For example, when I'm depressed, the idea of writing 1,000 words seems impossible, so I break it up into routine tasks. Outlining. Researching. Writing a 100-word intro paragraph. I take baby steps and remind myself that I'll figure out the rest later, but for now, all I need to do is get through that one small task.
The Pomodoro Technique is also useful for this. You set a timer for 25 minutes and try your best to work without interruption. When the timer goes off, set it again for 5 minutes and give yourself a break. No work at all. This is considered one "Pomodoro." After three Pomodoros, you take a longer, 25-minute break.
Being upfront with people I trust
I joke that I need an out-of-office reply for my depression, because I'm socially useless during those weeks. The problem is, this kind of vulnerability can be hard in the entrepreneurial world, which tends to value a picture of resilience and determination over anything remotely resembling vulnerability—oddly enough, vulnerability is often a necessary part of being resilient and determined.
For the most part, I tend to avoid any networking or professional events around this time. Even when I do muster the energy to actually go, it can be exhausting. I'll meet someone new, struggle like hell to hold a conversation, and then we'll part ways, with them having seen a side of myself that I wasn't comfortable showing. Or maybe they don't care. Either way, it doesn't matter—depression's obnoxious cousin, anxiety, will make sure I worry about this interaction one way or another.
A more helpful alternative to avoiding people is having a support group of friends and colleagues that I can trust, and be honest with them about how I'm feeling. Recently, a colleague invited me to a workshop she was hosting. I wanted to go to support her, even if my brain didn't. "I'm feeling out of it again," I told her. "In case I seem weird, distant, or distracted, don't mind me." She laughed and said she could relate. It's extremely helpful to have a group of people that can help validate what you're going through and not make you feel like a weirdo.
Finding a balance between dwelling and denial
It's generally a myth that talking about depression makes it worse. Talk therapy is a powerful tool for treating depression, Ellen Greenlaw writes at WebMD. And ignoring the problem can lead to denial, isolation, and substance abuse, all of which are things that will actually make your depression much, much worse.
On the other hand, sometimes I do get tired of wearing the label—it feels like I've made depression my entire identity. Eventually, I get to a point where there's nothing left to say about it and I'm not getting anywhere. For me, finding a balance between dwelling and denial starts with simple self-care: eating healthy, getting enough sleep, not binge spending (or binge drinking).
With denial, you tell yourself there's no problem and keep driving, even though you're on empty. When you're dwelling, on the other hand, you can easily convince yourself it's impossible to get up to take a shower. And it feels that way sometimes. Self-care is a good middle ground—it helps you focus on small tasks to avoid self-destructing while still acknowledging that, however necessary those tasks may be, they still feel daunting. It's easy to overlook self-care even when you're not depressed, but when you are, and you still have to get stuff done, these basic needs are even easier to overlook.
The key is knowing how depression affects you, and acknowledging that you might have to make changes to manage it. For years, I was in denial. I had no idea what was going on in my brain or in my body and I thought it was normal to feel this way. Yeah, I got stuff done, but I also made destructive, costly, hurtful mistakes because I didn't understand why I was feeling strange. Allowing myself to talk about this, no matter how much I cringe every time I do, has been critical to managing it—and not letting it get in the way of my pursuits. As exhausting as it might feel to take on a task when you're depressed, pretending like everything is okay only makes you run out of gas faster.
Depression doesn't hit multipotentialites harder, but navigating it as a multipod can be trickier. Making choices, trying new things, forging your own path—these things all require motivation, and it's frustrating when you can't seem to find it, especially if motivation flows freely when you're not depressed. Having a group of supportive friends and colleagues, focusing on smaller tasks, and embracing self-care won't fix the problem—but it's a start in the right direction.
Your Turn
How do you deal with your depression when it gets in the way of your multipotentiality? Do you take breaks from your projects or find other ways of coping? Share your stories and ideas in the comments below.
Doing/being/exploring ALL THE THINGS is easier with a community!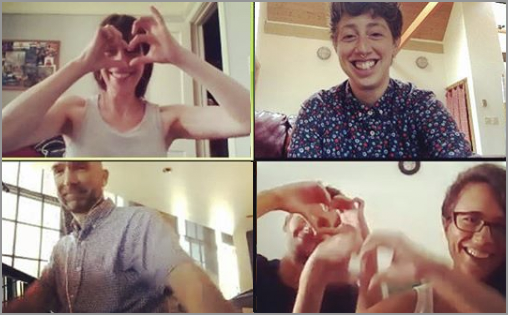 Did you know we have a private community of hundreds of multipotentialites from around the world? We support each other, share advice and cheer each other on as we building lives and career around ALL our passions.
Learn more about the Puttyverse and get notified next time we open the doors: