Last year, I met a woman who told me she wanted to be a writer. "That sounds so stupid to say out loud," she scoffed. "Writer."
I know this feeling. I felt it when I said I wanted to make movies. Or learn photography. When I told a coworker that I was moving to Los Angeles to do something more creative, and he laughed and said I was making a big mistake, I felt it then, too. I felt ashamed and audacious for having ambitions. You want to be a writer? Why don't you visit Mars or make a kajillion dollars while you're at it?
Wild ambitions are praised when you're a kid. As an adult, you're instead encouraged to doubt yourself constantly. You're primed to believe you're undeserving of something as simple as writing. Who do you think you are, snowflake? How dare you have a dream!
But even worse, the self-doubt becomes a self-fulfilling prophecy when you sit down, stare at a blank page, and think, "I can't do this. This isn't meant for me."
It's a circumstance multipods might experience more often, thanks to our desire to do so many different things. We want to be writers, designers, photographers, playwrights, voiceover artists… the list goes on. In some ways, we're perpetual novices, always learning and trying something new. And because of this, we're constantly confronting self-doubt. The good news is, we can also become experts at dealing with it. Below are a few of my favorite remedies for managing my own self-doubt.
Get to know your inner critic
Like Emilie mentioned recently, it can be helpful to get to know your inner critic better. Yes, your inner critic. You know who I'm talking about. That little voice in your head who says stuff like:
Who do you think you are?
You want to be a writer? Yeah, okay, Hemingway.
You literally have zero experience. What do you think you're doing?
Everyone is better than you. The world doesn't need you.
You're just gonna give up later, so why bother?
It can be helpful to get to know this voice better so you can figure out how to work with it. (And here are some exercises for doing so!) What does it look like? What is it telling you? Your inner critic might even be a friend or a loved one who is trying to help you.
It's true—your inner critic may be harsh, but it's a survival mechanism. It's designed to keep you safe. If you don't try, after all, you won't experience the pain of failure. Most of us think of our inner critic as the enemy, so we get angry and fight it. For me, it's helped to acknowledge my inner critic, listen to him, then calmly explain that I don't need protection. I'm okay with failure, because it's part of the process. As researcher Kristin Neff once told me, "Don't beat yourself up for beating yourself up. We just need to learn to make friends with our inner critic."
Focus on compassion, not confidence
Imposter syndrome happens when you doubt your abilities despite your qualifications. But doubt isn't always a bad thing—it can be useful to acknowledge that you might not have all the answers. In other words, imposter syndrome can be good for you. There's value in doubting yourself a little, you just don't want that doubt to keep you from moving forward. For all the advice to "fake it until we make it" and force ourselves to be confident, there's little attention on the benefits of admitting that you have room to grow. The key is to embrace your self-doubt without letting it get in your way of trying something new.
In that same interview with Dr. Neff, she promotes self-compassion as a beneficial middle ground between being too hard on yourself and being overconfident. She defined it as "treating yourself with the same kindness, care and concern you show a loved one." Unlike confidence, self-compassion allows you to acknowledge your limitations, which makes it easier to start writing that novel, or explore your interest in interior design. You don't have to pretend to be perfect—what a relief!
Know when to stop learning and start doing
There's nothing wrong with learning to swim before you jump in the pool. In fact, I highly recommend it. At some point, however, learning becomes a convenient excuse for not taking action:
Oh, I would love to start a podcast but before I start recording I need to take five courses on how to do this. Yeah, I'm going to learn photography but first I need to spend a month researching cameras and saving up for the best one.
Perfectionists know what I'm talking about. Before we start pursuing something, we must learn how it works inside and out. And while it's great to learn—at some point, learning ceases to be learning. It becomes gathering information as a way to procrastinate taking action.
Our self-doubt keeps us from doing the things we love because we feel like we must be perfect to even try. But here's a big secret: You'll never be perfect. You'll probably always doubt yourself. (After ten years of writing professionally, I still feel very stupid when I say, "I'm a writer.")
You won't be perfect, but you will get better. Ironically, though, getting better requires doing something. Otherwise, there's nothing to get better at. Don't take years to get started because your self-doubt has convinced you there will be a perfect time, or a perfect amount of information to gather, for you to engage your interests. That will never happen, and you'll spend years saying, "Yeah, I'm planning to write a book soon." At some point, planning to write a book means actively sabotaging your ability to actually write one.
Look for self-doubt in disguise
Self-doubt is sneaky this way. It doesn't always look the way we think it does. It disguises itself as perfectionism or protection. As perpetual novices, we find ways to keep ourselves in that role, because that role feels familiar and good. Of course, we pay a price for comfort: never doing the things we want to do. Thanks, self-doubt.
The good news is: It's never too late to get started, it's never too late to be new at something, and it's never too late to put your self-doubt in its place. Have a conversation with your inner critic, give yourself permission to get started, and—dare I even suggest—show yourself a little compassion.
Your Turn
How has self-doubt gotten in your way? How do you conquer it to thrive as a multipotentialite? Share your thoughts in the comments!
Doing/being/exploring ALL THE THINGS is easier with a community!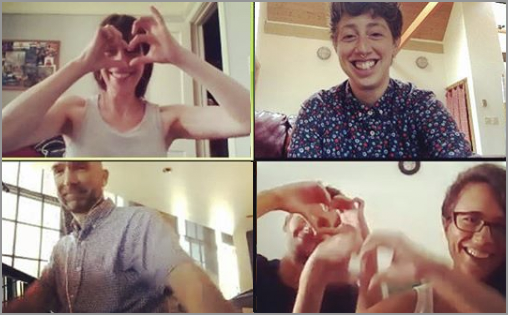 Did you know we have a private community of hundreds of multipotentialites from around the world? We support each other, share advice and cheer each other on as we building lives and career around ALL our passions.
Learn more about the Puttyverse and get notified next time we open the doors: