I'll be honest, I'm having a really hard time writing this post.
I've blogged about my experiences with chronic illness a little in the past, but I've been wanting to share more because I think it's important.
I know chronic illness is something many other multipods struggle with. As the "resident multipotentialite" here at Puttylike and someone many people look to for answers, I try to share my vulnerabilities and struggles, too.
The thing is I don't really like talking about my health problems in real life. Talking about it usually makes me think about it more, which makes me obsess about it in an unhelpful way.
Also, people just looove to offer suggestions when they don't know what they're talking about. Even having dietary restrictions causes some people to react in strange ways. I have one friend who expresses her shock (and disappointment?) anytime she sees me eating a paleo-friendly sweet or something like grain-free pizza. It's as though she has labelled me "the sick one who can't eat anything tasty" in her mind, and whenever I challenge that idea, she gets upset. People can be really weird about food.
Anyway, point is, I don't talk much about my health problems in "real life." However, since our brave Puttyverse members have opened up about their experiences, and part of me actually really wants to share with you, I'm going to get into it.
You don't need to know the details of my roughly ten-year medical journey. It involves: gut infections and some autoimmune stuff. It currently looks like: abdominal pain and distension, insomnia, anxiety, fatigue, and brain fog. I don't experience these symptoms every day, but maybe three to four days a week, in varying intensities.
Often it's quite mild, but there are days when I can't focus on anything because my head feels like it's stuffed with cotton. Just this morning, I got up for a meeting and then went back to sleep for two hours because I just had zero energy. I keep a heating pad by my bed because I'm so used to having stomach pain in the middle of the night.
My symptoms have gotten better over time, as I've addressed the root causes, modified my diet, etc. But it's still an annoyance that gets in the way of my ability to focus and function.
The thing is, I am someone who, from the outside, looks like they get a lot done. 2015 and 2016, in particular, were big years for me. I prepared and gave a TED talk, wrote a book, did a ton of speaking in places as far away as Australia and Romania, got married, moved to a different country…
Did you know that the night before my TED talk I barely slept? It wasn't just nerves; it was also pain. I took like three baths at the hotel in the middle of the night, praying I would feel better and fall asleep soon, trying not to freak out. In the end, I just told myself I'd be as gentle with myself as possible throughout the day. I would made sure to eat food I knew I tolerated well and do my pre-presentation rituals like meditation and power-posing. I figured that, even if I was exhausted, it would be okay. All I needed to do was be "on" for twelve minutes. I could manage that.
Part of the reason I'm sharing this is that it's really easy to compare your insides to other people's outsides (as the saying goes). People often come across my TED talk or online presence and assume I'm this super passionate, productive person all the time. That's just not true, and it's okay. You don't need to be "on" or "bulletproof" or "superhuman" to pursue your passions and make a difference in the world.
How I approach my work when I feel unwell
So, here's the part where I give you my X best tips for dealing with chronic illness. But honestly, I don't have much to add to the wonderful suggestions our puttypeep shared last week.
The main thing that has helped me is just becoming okay with lowering my daily expectations for myself.
I pay attention to my ebbs and flows. When I have energy, I try to do something important and creatively challenging. When I feel like crap, I do admin, answer emails, or do nothing at all.
I often return to this quote:
"We often overestimate what we can do in a day, but underestimate what we can do in a year."
(I'm not sure who first said this because different forms of this quote are attributed to different people.)
The reason I love this quote so much is that I've really found it to be true. I might not get much done in a single day, but over time the small actions add up.
A huge source of emotional pain for me used to be getting to the end of my day with a dozen things left on my to-do list. But I've found that if I lower my expectations for what I'm going to accomplish each day, and really just put one to three things on my list, I feel much better about myself.
Sometimes I'll make two lists: a "bare minimum" list and a more wishful to-do list. The bare minimum list is sometimes just one thing! (Though I try not to beat myself up if that one thing doesn't get done because I'm not feeling well.)
Lowering my expectations for myself is hard to do and I don't always succeed at it, but it's something I've been working on and have found really helpful.
That, and knowing that Darwin had horribly debilitating health problems… And he was still DARWIN! 🙂
Your Turn
Thanks, my multipod friends, for being good listeners (or readers, I suppose). Feel free to share your thoughts and experiences in the comments below.
Doing/being/exploring ALL THE THINGS is easier with a community!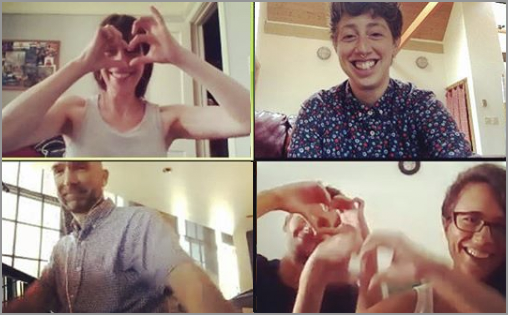 Did you know we have a private community of hundreds of multipotentialites from around the world? We support each other, share advice and cheer each other on as we building lives and career around ALL our passions.
Learn more about the Puttyverse and get notified next time we open the doors: