Wow, what a month. Thank you, dear readers, for joining us on Puttylike for Newbie Month this April!
It's been incredible to explore the act of beginning with you—all the joys, excitement, and pitfalls of trying a new skill or starting a new project.
Your official guide to being a newbie
We published some great articles this month about "newbie-dom." I'll link them here to keep things handy whenever you're becoming a Newbie again:
Perhaps some of these can serve as a roadmap as we continue the fun next month, for Yes You May over in the Puttytribe!
Stories from the multipotentialite community
At the beginning of April, we asked you to share stories and tips from times when you've been a "newbie." I was delighted (though not surprised) to find some pretty remarkable experiences, and a lot of excellent ideas for other newbies out there.
Here are just three stories I want to highlight for the whole community. Maybe one of these multipotentialites has the inspiration or advice you need.
Newbie Story #1: "Close your eyes"
Sometimes, doing something scary just requires a moment of trusting yourself and just… jumping in.
Emma never used to dance in front of people, until the fateful day her dance teacher said she had to perform her pre-choreographed dance for the whole class. She decided to push through:
"I started to get really nervous as I walked towards the speaker to put on my song, but when I walked to the middle of the gym I closed my eyes and let the music take over me. I just… danced my heart out."
Her teacher was impressed, and gave her a 99% for the project! She's got heartening advice:
"The only reason why I didn't get the full one hundred is because my eyes were closed. I didn't care about that one point—all I cared about was that now I am able to dance in front of other people… If you have a fear like stage fright, face it in your own way and good will come out of it."
Newbie Story #2: "One inch at a time"
Michelle decided to lean into her fear about her "something new" in a different way: with eyes wide open. For the last year, she's been closing her art therapy private practice and transitioning into being a kayak tour guide full-time. She says:
"Trying something new (especially as it relates to my career) is like stepping into an ice bath. I've learned that I have to do it one inch at a time, so I don't overwhelm or shock my system.

Admitting that a career you thought you'd be doing "forever" is no longer bringing you joy is scary. Thinking about what else you can do instead of the thing you've been doing for your whole adult life, while still making enough money to pay your bills, is absolutely terrifying.

But, I've learned to lean into the discomfort, prioritize my mental and emotional health, embrace change with open arms, and trust that the universe has my back."
For Michelle, because this newbie experience was about such a big aspect of her life, it required many many moments of trust—and the intentionality was key:
"The biggest things I did to manage the endless fear about this transition were to take things slowly and give myself permission to change my mind at any point along the way. I took a realistic look at my finances, timelines, and mental blocks to change to choose the right time to let things go. While there was a part of me that desperately wanted to blow up my career and start over from scratch, another part of me recognized that the safer and healthier thing for me to do was to make a gradual transition."
Newbie Story #3: "Go on a first date"
Rachel shared an amazing story of what it's like to be a not-quite-newbie… That is, to once again pick up a passion that she had left behind in the past. She's a classically trained bassoonist, but hadn't played one for years, partially because of one of those specialist-focused mentalities that many of us are taught:
"I decided I didn't want my livelihood to be playing the bassoon, so I assumed that it didn't have a place in my life. I sold my bassoon and disconnected from that part of my identity for a while."
But after 6 years, she missed it, and decided to try playing again:
"While this venture wasn't entirely new, I was coming back to it a totally different person, and I wasn't sure what role it would play in my life. I was scared.

Instead of seeing all of the barriers to performing (where would I get an instrument? What would I practice? Will I perform solo, with people, will I take paid gigs, what will people think if I'm not as good as I used to be etc?), I decided not to place any expectations on this venture. I thought of it as a "first date" with the bassoon!…

To deal with my fear of failure and fear of reconnecting with a past identity, I kept my goals REALLY simple. If the first date went well, I would go on a second date, and so on."
I love the idea of making your experience with a new thing a "first date"—a chance to see if you click with an interest and want to pursue it further, or not. This could work for any newbie, whether you're completely unfamiliar with the given interest, or you and your interest have just been estranged for a while, like Rachel and her bassoon.
Rachel also had some wise words about how she went about making her date happen, and sharing the news with others:
"I also took a lean start-up approach and instead of running out to buy an expensive instrument right away, I borrowed one through my network. At first I was afraid my colleagues would be judgmental, but of course they were thrilled to help me in any way that they could, and I just had to ask (another key strategy—remembering that most people want to see you succeed)."
After seeking out different, more creative projects than in the past, she's loving the bassoon again. It's been 3 years since that "first date," and as she says: "I'm on the market to buy an instrument again and I can't stop thinking of project ideas."
Let's be newbies together!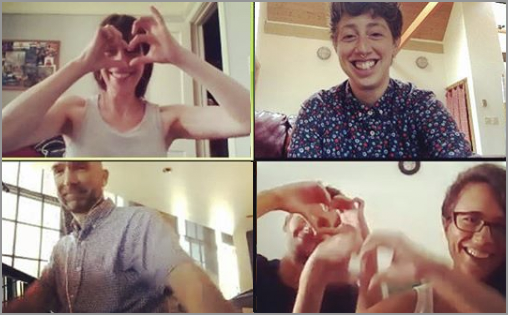 Multipotentialite friends, I hope you have many more first dates ahead. Don't forget: if you want some support for one you want to go on this coming month, join us in the Puttytribe for Yes You May!
Yes You May is a month-long community challenge where you can let yourself fail, try new things, be curious, and embrace all of YOU! We're going to have some check-in video huddles and weekly forum discussions so you can talk to other folks who are saying "Yes!" to being a newbie.
If you're not a Puttytribe member yet—it's your lucky day, because the doors are open today,. They won't open again until June, so jump in and make the most of Yes You May:
Your Turn
Did you miss the first chance to share a story about trying something new? We still want to hear yours! Share your experiences and advice in the comments below.