"A bachelor's degree in _____ or ______, with 1-2 years relevant experience in the field."
"A proven track record in ____ with a minimum of five years of experience, with an emphasis on ____ and _____."
Y'all, sometimes reading job advertisements just makes me tired. As someone with a lot of varied interests and experience in different fields, it can be disheartening to read sentences like these. I know why employers write ads this way, but I can't help thinking that specialists in my target field have a huge advantage over me, just because their resume is more specific—even if I could do just as well in the job.
It can be especially tough when trying to break into a new field. Even if it's an industry that's friendly to self-taught practitioners and freelancers, you still need some way to convince prospective employers, investors, customers, and collaborators that you know what you're doing. Or at least, you know enough of what you're doing for them to sink time, money, energy, etc., into you or your project.
Traditional wisdom around building experience doesn't always help. For one, many of us don't have the time or money to go to school and get a whole new degree every time we want to enter a new field. Or we already have good employment, and aren't in a situation where we can easily "start over" with an entry-level position in the new field to work our way up over the course of years.
Plus, many of us are what Emilie calls "simultaneous multipotentialites": folks who like to explore many interests at once, rather than sequentially. I'm one of these, and I simply don't want to put all of my other projects and passions on the back burner in order to pursue a full-time job or a new degree.
I want to invest time into developing this new skill or exploring this field, yes. That's the point: I'm interested in it, excited about it. But I'm always trying to find a balance of time and investment that traditional routes to "experience" don't always allow.
So how do you build your skills and your "track record," without investing all of yourself into a single field for several years at a time?
I've run into this problem over and over again, and while I'm no expert… perhaps my track record shows a bit of experience. Here are some of the ways I've tackled this issue in the past, and a couple of other ideas for you to mull over.
1. Self-study: Become an autodidact!
We know that multipotentialites are avid learners—it's just one of our many superpowers. So the most obvious way to jump-start a new interest is to study it on your own.
For example, I want to dabble in graphic design, so I'm taking courses in my specific areas of interest (Illustrator, logo design). Sites like Coursera, Udemy or Khan Academy also make online learning easy, and many public libraries can help you access these sites totally for free. Or read online to find the most important general books for your target interest, grab them from your library or local independent bookstore, and dig in.
You can also look into online conferences in your field; often you can watch or participate for free during the days of the webinars, or purchase the videos or materials afterward for a fee. This is a great way to immediately get a sense of the conversations people in the field are having—which can help when you need to show someone that you're knowledgable and tuned in.
And of course, even if going to school full-time is not your jam, you can always take just a class or two at a time! Sometimes a full degree isn't really as crucial, but a certain certificate is just the leg-up that you need to get the job you want (make sure you learn the specific requirements of the kind of position you want to try). Think broader than universities and community colleges, too—often local art centers, community centers, gyms, and other organizations have classes you can take in the evenings or on weekends.
2. Freelance work and passion projects
As soon as you've got some of the skills you want, or even just an edge over someone who's totally ignorant of the field, you can start—with projects of your own, freelancing, and consulting. This is a great way to begin to build a portfolio of work that can help you land bigger or better gigs, or can show your initiative and individual passion when you're trying to snag that "regular" job later.
This dovetails nicely with self-study, because there is no quicker way to learn how to Do A Thing than to just Do The Thing. You'll make mistakes, and you'll invest time in avenues that don't pay off… but that means you'll learn in a much more visceral way what works for you and what doesn't.
Here's an example of a passion project that helped me gain a ton of experience. In 2014, my friend and I started a meet-up group, and I quickly discovered I loved the act of bringing people together. Over the next four years I invested a lot of my free time into growing the group, planning events, and building connections. I made a lot of mistakes, but I also learned a lot. Now I manage a community center, a job I got partly because of my track record with that meet-up group. Though my role is quite different, every day I'm still using the event-planning and community-building skills I learned then.
3. Volunteer
Many organizations (especially nonprofits, but businesses too) need extra hands. Volunteering is a great way to take a peek into their world of work, and often organizations will train you for your role, too.
For example, while volunteering with my local chapter of GLSEN, I was trained to lead other trainings: workshops that could be taken to schools and offices, where folks can learn more about LGBTQ identities and issues. I learned not just the content of the workshop, but facilitation skills as well. At the time I wasn't thinking about gaining experience for my resume—but several years later and in a different city, I've implemented our own version of "Safe Zone" trainings for my current organization, and I use my facilitation skills constantly in other group meetings and programs.
Not only can you gain skills through volunteering, but if you really commit to significant time or a specific role with an organization, you've got concrete experience to list on your resume as well.
4. Seek mentors and peers
Other people have the expertise you seek, and many of them might love to be a mentor or a resource for you. You could seek anything from a full-on apprenticeship with a skilled practitioner, to a "point-person" connection—someone you can reach out to when you have a specific question during self-study or freelance work. Sometimes you might be able to make these connections with people you already work with. For example, if you are interested in IT, but work in marketing… see if you can strike up a friendship with the IT folks at your company.
But it's not just experts who you might learn from. See if you can find some peers: folks who are learning or building experience, just like you. You can trade knowledge, ask questions, share experience, and commiserate over complaints. Consider creating a project together— it's a great way to bond and increase everyone's experience. You can find communities built for this kind of peer-networking all over the place, including the Puttyverse; you can also create your own from scratch.
Finally, think broadly! Finding mentorship and community is not just about the folks you know personally, but the thinkers whose media you consume—consider who your role models might be. And who knows? Maybe the mentors you already have, in your other realms of interest, have ideas that apply in the new realm too.
5. "Spin" the skills and expertise you already have
Remember those intimidating job ads that I started with? Some are highly specific because the job really requires a deep and specific knowledge. (For example… I don't want someone who's not a registered nurse taking charge of my nursing care if I have to go to the hospital. Even if they do have experience in other parts of healthcare!)
But other times, the specificity of these ads is just about trying to weed out some of the applicants who wouldn't be a good match—and the employer is actually quite open to hearing from folks who might not meet the specific experience requirements, but who have the passion and the adaptability to do a great job.
Think about the jobs you have held, and projects you have done, and look for what career coaches call "transferable skills": ones that you can highlight and re-contextualize on your resume and in your interview, depending on what kind of job you're applying for.
Perhaps your volunteer role at the food pantry wasn't just about helping visitors get what they needed—maybe you learned lots about the food system that you can re-brand as horticulture experience. Or perhaps those presentations you did every week while working in sales can be spun into "content creation for efficient intra-company communications"… when you're trying to get into copywriting. Get creative with it!
**
As you face the "we-want-years-of-experience" problem, remember most importantly that you do have years of experience in a role that's going to help you bring a lot to the table: being a multipotentialite!
Not every applicant for the job you want, or every competitor you face as you freelance and create things, is going to have your many multipod superpowers. You "speak the language" of your other fields, and you're primed to solve problems that exist at the intersections.
Your seemingly-irrelevant experience might be a huge asset and provide a fresh perspective in this new field. Don't be afraid to share your unconventional background (and show how it applies) at an interview, or when building your portfolio—it might be the thing that sets you apart.
Your Turn
Have you gotten a job when you didn't technically have the "experience" they were asking for? What other strategies for building experience have you used? Tell us your tips below in the comments!
Doing/being/exploring ALL THE THINGS is easier with a community!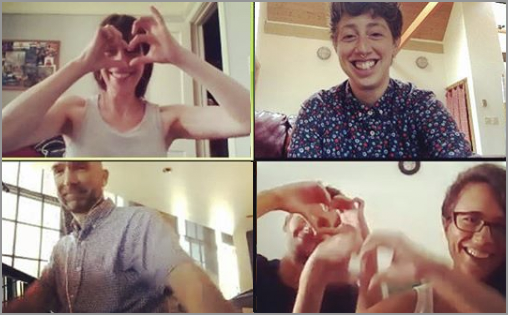 Did you know we have a private community of hundreds of multipotentialites from around the world? We support each other, share advice and cheer each other on as we building lives and career around ALL our passions.
Learn more about the Puttyverse and get notified next time we open the doors: