Dear Puttylike,
I wouldn't describe myself as a multipotentialite–but I'm married to one! My husband is constantly looking for different career paths and opportunities. He has had an assortment of jobs, professions, and degrees. Sometimes he loses interest and moves onto the next thing pretty quickly.
For me, someone who would describe myself as a specialist, it can be overwhelming. I want him to be happy, but it's hard to get behind his next career path as it means incurring more debt and we've just bought a house. It's also hard to be excited about a new pursuit when I know there's a good chance that it will change. I'm fully supportive of him being happy at what he does, but I'm struggling to help him achieve it, as his vision seems to constantly change. I hate feeling as though I'm crushing his dreams. How do you help someone identify what are serious interests versus fleeting ones, and are there ways to make sacrifices to keep him happy in a job but not constantly put us further into debt?
Sincerely,
Supportive Specialist
**
Dear Supportive Specialist,
Kudos to you for wanting to support your multipod partner as best you can. I imagine this is a pretty common relationship problem. In fact, it's an issue that's popped up in my own relationship recently.
At the end of this past year, I made a drastic decision. After ten years of living in California, I decided to take a new editing job that would move me to New York City. With a husband, a house, a dog, and a cat here in Los Angeles, I couldn't help but feel guilty.
Both editing and moving to New York are things I've wanted to pursue for a while. If I were single, the decision would've been a no-brainer. But with a spouse who has a job, family, and childhood friends in California, uprooting our entire lives to pursue my goal has been a difficult decision, and a conversation that we've had for years. In that time, he's echoed many of the same sentiments you do.
Like you, my husband is a specialist who craves certainty and stability, and I'm a multipod who wants to pack everything she can into a single lifetime. Like you, he often wonders how to encourage and support me when the things I want are at odds with the things he wants, and vice versa. We've both made concessions. And while I'm certainly not a relationship expert, we've come to a place where we feel mutually supported and optimistic, and there are some important lessons we've learned along the way.
You have to pinpoint your values
Every multipotentialite is different, and that's okay. Sometimes we know exactly what we want, and sometimes our interests are fleeting. This does make it hard for our partners to know when to take us "seriously." On the other hand, there's no right way to be a multipod, and those fleeting interests can be just as valuable, so I would encourage you to take them seriously, too.
That said, there are potential drawbacks to constantly moving on from one hobby to another. Namely, it can be expensive to invest money into a fleeting pursuit—we'll get to that later. But sometimes our pursuits are fleeting because our heart was never in them to begin with. And that's where it really helps to have guidance from loved ones.
Many multipods convince themselves a certain path is right for them because it leads to money and traditional markers of success. Then we get on that path and realize, OH WOW THIS IS NOT FOR ME. We soon realize we were just doing the thing we thought we "should" do instead of the thing we really wanted to do. Of course, sometimes you do have to do those things, and sometimes those things can help you with your other pursuits. But this becomes a problem when you invest a bunch of money into a "should" only to give it up later. How many people are paying off student loans for degrees they never wanted in the first place?
As the partner, loved one, or friend of a multipod, you can look out for these patterns and encourage them to do a quick gut-check when new pursuits pop up. When I come up with a new idea, I always run it by a good friend and colleague. She knows me well, and will outrightly tell me if she thinks a pursuit will leave me feeling unfulfilled. When I wanted to write a book about freelancing, for example, she asked, "Is that something you really want to do or is it something you know you could do?" I had to admit it was the latter, and it saved me a lot of time I would have spent figuring it out on my own.
You can do this with your spouse. My husband and I talk regularly about our goals and values so that we know what we're both working toward. This makes it easy for him to pinpoint projects that I truly care about versus distractions that don't align with my priorities. When your husband brings up an idea, you can go through that "dream bio" exercise with him (or try some other exercises for pinpointing your values and "whys").
At first, he might be defensive. It's easy for multipods to feel defensive about the way we are because we live in such a specialist culture. But if he knows you're truly there to support his multipotentiality, he'll see that the exercise is really about making sure he's doing what's best for himself. And yes, that means not throwing money and time into something that he'll give up later.
There is a gentle way to broach the topic, though. Try something like, "I don't see your many interests and changing passions as a problem, in fact I want to support them and you better– which is why I want to talk about what's driving these changes and how it's affecting our money and life together." Make sure he knows that this conversation isn't an attack–it's a way to find a balance so that you can both get what you want. He'll feel a lot more optimistic this way.
Encourage your partner to test interests before going "all in"
Being a multipod can be expensive. You have so many interests, and those interests might require equipment or certifications or any number of other expenses. Beyond the cost, there's an added problem: Sometimes you "buy" your way to a new pursuit only to lose interest in it. Sometimes the simple act of consumption is enough to feed your interest, then you get bored.
For example, maybe you love the idea of being a photographer, so you buy an $800 DSLR camera, carry it around, then realize you liked the idea of "playing" photographer more than you do actually taking pictures. I'm not judging—I know this happens because I've been there. And it can be frustrating for our loved ones, who are affected by our spending habits.
One way multipods can get around this problem is to test out a hobby or interest first. You can support a multipod spouse or partner by helping them find ways to do this. Brainstorm free or low-cost ways to experiment with a new interest. For example, if he's interested in photography, he could rent a camera for the weekend before spending $800 on a new one. If he wants to go back to college to get a psychology degree, he could try taking a class or two at his local community college first.
It may also be worth interviewing someone in his chosen field. If your husband is interested in getting a specific degree, it makes sense to interview some people who have already earned that degree and can give him a sense of what day-to-day life looks like for someone in that field. He might decide early on that it's not for him, in which case, you've saved a boat load of money. It's one way to explore a curiosity before going all in.
You can even come up with a monthly "multipod budget" together. Set aside a couple of hundred bucks a month to spend on (or save up for) various interests. Set guidelines together so that your partner can indulge their multipotentiality, while you still get the stability you need and crave.
Money isn't everything, but it matters.
For a lot of multipods—and people in general—money is just a thing that gets in the way of doing what you want to do with your life. This is why a lot of us just avoid dealing with money altogether. Money feels like an obstacle, a hindrance. Of course, avoiding our finances only makes things worse. And oftentimes when we argue about money with a partner, it becomes an either/or situation. Either you give up your interests, or we go broke. It doesn't have to be that way, though—it can be helpful to instead think of money as a tool to help you do more of what you love.
For example, I have a friend who spends a great deal of time acting and doing comedy. He doesn't make any money with it, but that's not the point—it's his passion, and he supports this work with a day job. He's very good at saving money so he can take long hiatuses to work on his hobbies. He's a money whiz, and not because he loves money—he's good with money so that he can afford to spend more time doing the thing he's passionate about. I wish we could all see money this way: as a means to an end. Of course, this is much easier said than done, especially with something like money, which often seems like a thing you have little to no control over.
And that's where debt comes in. Debt seems like no big deal at first, but it quickly takes over and steals from every other area in your life. It gets heavier and heavier until it limits your choices and backs you into a corner, making it difficult for us multipods to do all of those fun things we want to do. Money isn't everything, but it matters.
You and your spouse probably need to have an open conversation about money in which you put everything out on the table. Getting on the same page about money is an entirely different post (and one that I've written about in more detail here). The gist of it is, you have to figure out how both of you deal with money, talk about your goals and how you'll use money to help you reach them, then find a solid middle ground where you're both financially comfortable. It's much easier said than done, but that's the case with anything money-related.
Relationships are a two-way street
The onus is not on you alone to figure this out. Multipotentiality isn't an ailment, it's simply another way of being. It's up to everyone in the relationship to figure out how to coexist and make the most of their differences. So while it's honorable that you want to support your husband, and are willing to make sacrifices for his happiness, the efforts should be mutual. By finding a way to compromise and coexist, you're not crushing his dreams, and he's not crushing your stability. You're just finding a way to get on the same page, despite your different approaches to your pursuits.
Don't get me wrong—I'm not saying my spouse and I have it figured out. Our differences can make for some difficult situations. Sometimes I even wish I was more of a specialist. It might make life easier. But it would also make life extremely lackluster. All the obstacles that arise for multipods are worth it because we can't imagine living any other way. We are intent on pursuing all of the things that make us feel alive, as difficult as they may be.
It sounds like you want to encourage your partner's multipotentiality, and in this case, I think that's the most important thing. A good partner encourages you to maximize your potential and be the best version of yourself. If you have that nailed down, the rest will fall into place—even if it does take some time, compromise, and yes, the occasional argument.
Your Turn
Multipods, how do you coexist with a specialist? What are some of your best strategies and techniques for finding ways to compromise when you approach things differently? How does your partner support your multipotentiality?
Doing/being/exploring ALL THE THINGS is easier with a community!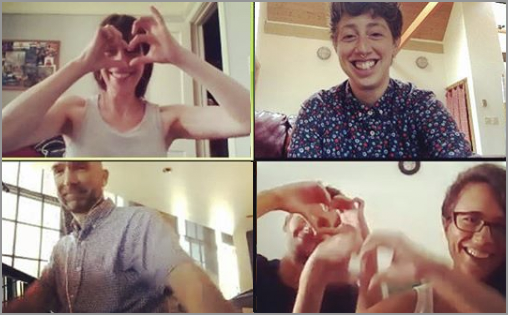 Did you know we have a private community of hundreds of multipotentialites from around the world? We support each other, share advice and cheer each other on as we building lives and career around ALL our passions.
Learn more about the Puttyverse and get notified next time we open the doors: