"Life is barely long enough to get good at one thing. Be careful what you get good at."
Thanks, Matthew McConaughey. I was happily enjoying my Sunday night, watching an episode of True Detective with a glass of cabernet, when McConaughey's character drops this line. And it hits a little too close to home. This crime drama was supposed to be escapism. Now, my inner turmoil has been activated. Life is barely long enough to get good at one thing. Be careful what you get good at.
Immediately, I wonder: Should I stop taking this photography course? Why am I reading five books right now, what's wrong with me? Oh no, I should've never started writing about money, now I'm stuck doing that forever.
The idea that you're running out of time so you have to pick one thing, and it better be the right thing, is not new. It reminds me of advice I once read about how our brains are like a beach ball filled with bumble bees: constantly pulling us in different directions, making it impossible to move forward. It's pretty standard, traditional career advice, really: Avoid being a "master of none."
Multipotentialites know better… but sometimes the idea of picking one thing just seems so much easier. Quite often, my brain does feel like a beehive—erratic and unruly. It would be so much easier if there was just one bee in my brain. (Actually, that sounds pretty painful. But you know what I mean.)
This is normal. Our brains crave what psychologists call cognitive closure, the "human desire to eliminate ambiguity and arrive at definite conclusions," according to its Wiki, which stealthily adds in parentheticals, "sometimes irrationally." The irrational part is important. We're so keen to put things in boxes, to have that closure, that we'll force something that doesn't fit. As a kid, did you ever try to squeeze the wrong puzzle piece in the puzzle? It works in the moment, but then it destroys the big picture.
So let's say you've discovered that you're a multipotentialite and loving it, but eventually, your need for cognitive closure creeps up on you. Self-doubt kicks in, making it hard to accept your own ambiguity. What's a reluctant multipod to do? For starters, I suggest you avoid the following habits, which seem to make things worse.
Comparing yourself to others
First, there's comparison, which Mark Twain said is the death of joy. And it's true—if you're feeling good and happy and positive about your own creative multipotentiality, there's nothing that'll kill that faster than worrying too much about what other people are doing.
I don't know about you, but it takes a whopping 30 seconds on Instagram for me to wonder if I should be doing something else with my life. Instagram is a great app for second-guessing your life choices.
The antidote might be to take a break from social media or unfollow the accounts who make you feel bad. A more lasting solution? Come to terms with your envy. Get to a place where you can be jealous of people and still be happy for them. Easier said than done, so how do you get there?
How to kick the comparison habit:
Remember that you're comparing your insides to someone else's outsides

. Or your beginning to someone else's end. Everyone is different, and we present different parts of our processes.



Ask yourself, "What exactly do I envy here?"

On Instagram I see a fashion blogger eating a macaron in Paris. What exactly do I envy here? It's less about what she does for a living and more that I just want to go to Paris—or eat a macaron.
Chasing shiny objects
And then there's shiny object syndrome, the feeling you get when you're distracted with a new and fun project. Maybe you listen to a business podcast that gives you a million different ideas of what you could be doing in your career, and it all becomes so overwhelming that your multipotentiality starts to feel more like a curse than a blessing.
Worse, the shiny object reminds you that the project you're currently focused on has become difficult and boring. The writer Paula Pant has a great quote about money: "You can afford anything, but not everything." In other words, money can theoretically buy anything, but you have a limited amount of it, so use it wisely.
I think the same is true for your time and energy. You have a limited amount of both, and shiny objects can be detrimental to your progress. Let's say this is the year you finally write your novel. After the initial excitement wears off, it's easy to get distracted by other potential goals, like launching a podcast or opening an Etsy store. Yes, you can do those things–and as a multipod, you should– but can you do them all right now? Realistically, probably not.
How to deal with shiny objects:
Save it for later:

A friend of mine says when she runs into this problem she simply writes down the potential new goal and comes back to it later, when she finishes the project at hand. This way, you have time to decide if it's really something you want to do, anyway.

Schedule "tinkering time": You can also schedule "tinkering time" to work on the new project. Give yourself an hour each week to play with those shiny objects. Budgeting your time this way ensures you don't get completely distracted by it, and you can also reap the benefits of being a multipotentialite. You never know what creative ideas might come from that tinkering time—perhaps you discover something that helps you with your novel.
Find your fellow multipods
When the fear of being a master of none starts to take over, I've found that it helps to spend more time with other multipotentialites. This is useful because it helps me realize I'm not alone in my need for cognitive closure. (As fellow multipod Neil Hughes joked when I brought up this problem: "It's normal. I often feel like I'm in a perpetual state of crisis.")
It helps to know I'm not alone. But it also helps to be around peers who are less militant about having the puzzle put together—they remind me that ambiguity is not just normal and fine, it's also amazing and creative and exciting and fun. Even if it means being in a "perpetual state of crisis."
Part of coming to terms with your own ambiguity is coming to terms with the fact that life is not a race towards a finish line, or a series of boxes you must check. Life is far too complex and multifaceted—and so are you, probably.
Further, the fear of being "master of none" subsides when you realize this view is typically focused on extrinsic measures of success, like money or status or having your name on the front door. These are things that don't make us very happy, satisfied, or fulfilled in the long-term.
When I start thinking about what success means to me, I realize that I really don't care about having my name on the front door. I just want to live a life full of experiences, good and bad, and I think that's pretty common for multipotentialites. The bees can be annoying, but ultimately, we enjoy their company.
Your Turn
Multipotentialites, does your fear of being a "master of none" get the best of you sometimes? What makes it better or worse? How do you cope?
Doing/being/exploring ALL THE THINGS is easier with a community!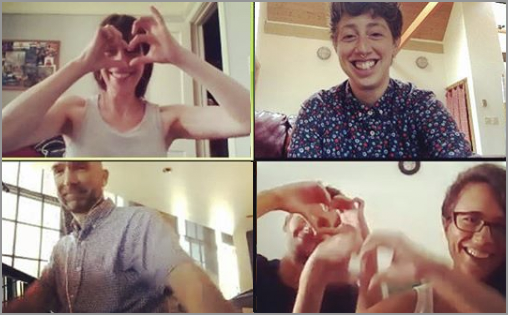 Did you know we have a private community of hundreds of multipotentialites from around the world? We support each other, share advice and cheer each other on as we building lives and career around ALL our passions.
Learn more about the Puttyverse and get notified next time we open the doors: