Hi, I'm Claire. I also go by Nyles. And no, I don't have a preference for which name you use.
This post is partly a Hello! to the Puttylike community–I'm the new Managing Editor for the blog, and I wanted to take a moment to introduce myself–but I also want to talk about this thing that people keep saying to me.
I'll introduce myself to someone new: "Hey, I'm Nyles. Or I also go by Claire. Either one is fine."
And more often than not, I immediately get asked, "Which name do you prefer?"
Now of course, I appreciate that mostly this is coming from a place of courtesy. In particular, I move in a lot of LGBTQ circles, and I think queer folks are especially attuned to being considerate of name changes. Because I present in a somewhat androgynous way, and my two names might be read as two different genders, people might imagine I am transitioning and want to be sensitive to my needs.
But that's not my specific story… and whenever I say both of my names, I always add, "Either name is fine." So I am somewhat surprised that since I've started using two names, it's so consistently met with strangers questioning my stated lack of preference, sometimes more than once. It's made me think more closely about how I present myself… and whether two names is too many.
The second-guessing game
When I tell folks that I go by Claire or Nyles, and I see them get that a blank look in their eyes, I get afraid that I'm being too confusing. I worry that they think I'm a weirdo, or that I'm asking too much of them to remember both names–or that if I don't consistently sign my emails to them with the same single name, they'll be utterly bewildered about who they're talking to.
And I think I recognize a similar fear in other realms, too, including among other multipotentialites. We're sometimes afraid of becoming too complex, or being what's colloquially called "too much." We worry that we're coming off as inconsistent or flaky. We worry that our desire to do many things is somehow greedy, unfair, or overly taxing on other people.
This fear doesn't come from nowhere! It's based on actual things we hear people say to us. Even some folks who say they're supportive of our multiple passions still express their confusion and surprise when they hear about the projects we're working on:
"Oh, you're still doing that?"

"Huh. So how is that going to help you with [your primary bread-winning position]?"

"Oh cool… So are you going to switch careers over to that field now?"
These (usually) well-meaning comments can sneak up on us in the most innocent ways, and sound like hints at the truth: that we need to pick one, because anything else is incomprehensible. It can be especially dangerous when we're hearing these things from many people around us, or from individuals who we view as successful and worthy of respect. We might start to second-guess ourselves, and think that in order to be successful, we have to be simpler.
It's questions like these that made me second-guess whether I should continue trying to claim two names equally, or instead prioritize one, so that I'd have an easy answer for the folks who want to know which one I prefer.
But I realized that if I prioritize one of my names for the sake of other people, I'll have stopped prioritizing myself.
While my fears about having two names are definitely parallel to my fears about being a visibly-multiple multipotentialite… both of these are just reflections of a bigger, older fear: the fear of taking up too much space with my actual, true self. Since I recognized that oldie, it's been easier to combat my inclination to squash myself down into something smaller, simpler, and less true.
Here are some thoughts I use to help me fight the fear, and stay un-squashed… maybe these things will help you, too.
We're not too complex
Honestly, having two names shouldn't be too much of a hurdle to understand. Some people go by a legal name and a nickname. Others have two versions of their name, like William and Billy. And for just about everybody, we don't have any trouble conceptualizing that they have both a first and last name.
The real hurdle is that people don't expect two very different first names, without any system for when one might be used versus the other. It's unusual. I'm breaking a mold, and they have to take a moment to wrap their head around it. They have to think about it, and put effort into understanding what I need.
As multipotentialites, our problem is not that we're fundamentally too confusing or complex for other folks.
The problem is that our culture imagines choice in binaries: "You're either this or that, you can't be both." We all have built-in binary expectations about a lot of things, and moving away from that model takes time and effort. Other folks may need a moment, or even a year, to wrap their heads around something or someone that breaks the mold. Shoot, we might need a moment, or many years, to understand ourselves as individuals who are outside of a given mold.
And some folks might be fundamentally unwilling to put effort into understanding us. But as nonbinary activist Jeffrey Marsh reminds us: "Our job is not to become simpler when other people find us too complicated."
(These same principles apply for people who use more than one set of pronouns, and bisexual people, and polyamorous people, and many other people who've been told they're "in a phase" or "greedy" because they don't have a simple answer to common "either/or" questions. Complexity isn't the problem; an unwillingness to engage with others' complexity is.)
So: I don't always have to explain it all to everyone. There are many times when I introduce myself as just one of my job positions, or with just one name (and that feels fine, because I like my jobs and names individually, too!). There are days when I need to conserve my emotional and mental energy, so I choose to let folks only see one part of me.
But even if I don't always outwardly and vocally champion my fully complex, plural, integrated self, that doesn't mean I can't be that self. I'm Nyles, and Claire, in any order, all the time.
There is no "too much"
It's been helpful to me, as I embrace the weirdness of having two names and three-plus very different jobs, to remember that we're all weird and deeply complex.
There's no specific allotment of mental energy within which other people must totally understand us. On the contrary… to truly understand each other, we all have to put in quite a bit of effort. And that's a beautiful, multiplex process.
It's also been helpful to remind myself that change is healthy. If someday I decide I do have a preference between my names, or if one of my current passionate interests isn't my cup of tea next year–that will be totally okay. It doesn't mean I'm currently confused, and that my future self is my "real" self… it means that right now I'm being true to myself, and hopefully in the future, I'll also be true to myself.
Lastly: it's been empowering to find the people who love both and use both of my names (sometimes at once! I love when someone says "Hey, Claire Nyles!"). It doesn't have to be everyone in my life, but having at least a few people who validate my decision to use two names makes me feel seen and loved.
Similarly, it's been crucial to me to find a community of people who understand my multipotentiality through and through: in short, other multipods. These are folks who also deal with other people's surprise and confusion about their multiplicity. We can help each other navigate those moments, and reaffirm each other in all our individual complexity.
It's that support and community which makes me so excited and glad to be working for Puttylike. I love that I get to edit multipod writing for multipod readers like you–and I can't wait to get to know you all better.
Your Turn
Are there things people say to you that leave you worrying that you're too complex? Do you have other strategies to combat that feeling? Share your tips and stories with us in the comments below!
Doing/being/exploring ALL THE THINGS is easier with a community!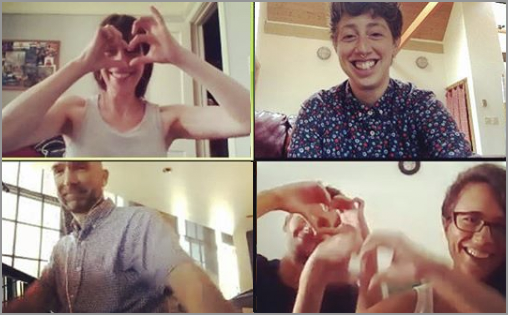 Did you know we have a private community of hundreds of multipotentialites from around the world? We support each other, share advice and cheer each other on as we building lives and career around ALL our passions.
Learn more about the Puttyverse and get notified next time we open the doors: