Welcome to Dear Puttylike, where our team of writers tackles your burning multipotentialite questions! Submissions are edited for length and clarity.
Dear Puttylike,
I am a multipotentialite studying for my graduate degree, and I have learned a lot and loved it, but now I am bored and feel it would be impossible or at least very hard for me to finish. Do you think that it's okay to let go and not get my degree?
Thanks,
Bahar
Hi Bahar,
First, it's always okay to let go of something that isn't serving you anymore. Multipotentialites deal with that issue quite a bit, so know that you're not alone.
You may feel a bit guilty to even consider not completing your degree. That's normal too, and it could be that not finishing is an excellent solution for you.
There's much more to consider, so let's dig deeper into your question!
Why are you feeling bored?
We'll need to keep things a bit general because I don't have a lot of background info on you and your specific situation. I'll step through your question and then talk about some solutions that I think can help other multipotentialites in the same boat.
Let's start by talking about the boredom you're feeling. It might be helpful to consider why you're feeling bored, and that the answer may not be obvious. There could be many explanations for your ambivalence, but reflecting on a few potential reasons is a terrific place to begin.
1. You're finished—you got what you came for
Multipotentialites define finishing differently than specialists. To a specialist, you might be "finished" when you obtain that degree, put in 10,000 hours or become a world-renowned expert. But to a multipotentialite, finishing looks very different. As author Barbara Sher puts it, finishing simply means that you got what you came for. "What you came for" could be the completion of a project, but it could also be something more personal, like developing a new skill, solving a problem, gaining a new experience, expressing your creativity, etc. To the outside world, you might not look finished, but only you know if you're done here.
Imagine sitting down to watch a movie you've been super excited to see. About a third of the way through, you realize you're getting fidgety. You're easily distracted by the swirly pattern on your couch. Do you suffer through another hour of the movie, or do you switch to something else?
If you're done, you're done. Let go of the guilt. There's no shame in losing interest in a given subject. Give yourself permission to move on to other things that captivate your brain and bring you joy.
2. You're feeling more challenged than when you started
Have you ever been reading a book and suddenly, halfway down the page, realized you don't know what you just read? Sometimes this happens because you're tired or distracted, but it can also happen because you didn't understand a word or a concept earlier on. Once you go back and clear up the confusion, you can get right back to focusing on your reading.
Perhaps your classes are like that. Starting a course feels fun and exciting, because you're just getting oriented to the material. However, you may have to work harder to keep up as you get deeper in. That mental shift can cause boredom, particularly if you're not absorbing the material as you progress.
Take some time to discover if there are places in your coursework where you stopped understanding things quickly. Then backtrack and get a hold of the concepts you missed out on. That exercise may get you interested again!
3. Something new is taking away your focus
Ah, Shiny Object Syndrome (SOS). The Syndrome is real, and it happens to the best of us. Multipods are particularly affected by SOS because it's so easy for us to get excited by the potential of a new idea or project.
If you find that a fresh interest has started to replace your schoolwork, don't just sweep the new discovery under the rug. It will likely continue to pull at the back of your mind anyway. There are great strategies to organize your mental space, allowing you to focus on your courses and keep your more recent curiosity.
Ask yourself what you expected to get from the degree
As we step through more of your question, you should review your original reasons for pursuing a graduate degree. Again, there are some key questions to consider. Let's walk through some potential motivations you may have had for starting this path of study in the first place.
The certificate
Did you set out to get that piece of paper so you could qualify for better pay, or even a better job? Some positions absolutely require a graduate degree, while for others it may be unnecessary. Take some time to research and assess whether the certificate will really help you land a better job, get a raise, or otherwise meet your goals.
The achievement
Many people start projects with the end goal of being able to say, "I did it!" That's a great feeling, and there's nothing wrong with obtaining a graduate degree solely for the satisfaction of the achievement itself.
Are you still interested in this specific achievement or is there something new you're involved with that may give you that same feeling of fulfillment?
The education
Do you like to learn new things just for the fun of it? Many people, particularly multipotentialites, head down a path simply to broaden their knowledge, not to fill an end goal. Not having a finish line to cross is totally okay. If the goal is simply to learn, there may be other ways to achieve it as well. Many multipotentialites are autodidacts and do quite well learning with an internet connection and a pile of books.
Sunk costs
When you're deciding whether or not to continue something—whether it's baking a cake or pursuing a graduate degree—it makes sense to contemplate how much you have already invested.
In the case of this graduate program, the financial costs associated with obtaining a degree may be quite significant. It's worthwhile to analyze the monetary value of what you've already spent. Ask yourself if you'll lose more by quitting than you will gain by finishing. Again, take into account the value of what a degree might bring in the job market.
Secondly, don't overlook the mental costs. Have you already put in so much intellectual effort that quitting will leave you feeling unfulfilled? Or, is the thought of enduring one more hour of the boredom you're feeling just too much to bear?
Reviewing both the mental and financial aspects of your sunk costs could bring you closer to a resolution.
Where to go from here?
We've explored a lot of potential reasons you might not want to finish your degree. Let's talk about some practical things you can actually do about them—including the option to stay the course.
Take a break and graduate later. It's entirely doable to hit the pause button on getting your degree. Talk to your school administrator about how that can work. Maybe after a breather, you'll feel excited again.
Put your energy into new things. Has your passion run its course? Is it possible that you already got what you needed out of your schoolwork, and you don't need to continue on the same path? Focusing on things that genuinely excite you, whether that means leaving your program or just dividing your attention, may bring your life back into balance.
Learn differently. If it's all about education for you, there are many ways to get that without the formality of a degree. Perhaps, instead of taking a full complement of courses in a graduate program, you can take one course at a time. Or you could pursue your studies on your own. Either way, this may enable you to get deeper into a subject and enjoy the learning experience itself.
Stay the course. After all of these considerations, it's entirely conceivable that you'll decide to complete your graduate program. When you factor in your sunk costs—both mental and financial—you may find that the best solution is to move forward with getting your degree. It's an option worth considering as much as quitting.
The correct answer for you
Multipods typically have more than one string to their bow. While we're all very similar in that way, we are also unique individuals with varying motivations and histories. The right answer for you about completing your degree (or not) won't match up with someone else's, even if they're on a similar path.
Hopefully, the alternate options I mentioned above will help you reframe your thinking and guide you to your best answer.
Your turn
Have you ever invested a lot of time and effort (and maybe money!) into something, only to feel done before it's "supposed" to be over? Do you have any experiences with graduate school? Leave a comment below and share your experience—and your tips for handling this common multipotentialite experience.
Is there something that's getting in the way of you living your best multipotentialite life? Got a puzzling productivity challenge or career quandary? Is there a particular family member who won't accept your many facets? Or maybe you have a more general question about multipotentialites and how we move through the world? Send your "Dear Puttylike" questions to advice@puttylike.com
Doing/being/exploring ALL THE THINGS is easier with a community!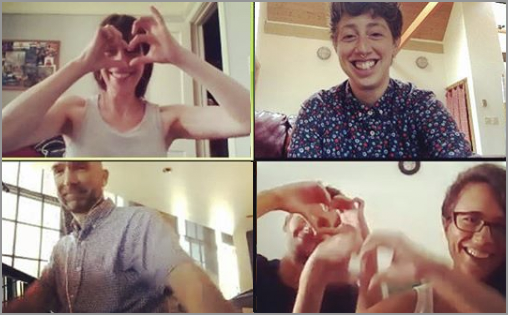 Did you know we have a private community of hundreds of multipotentialites from around the world? We support each other, share advice and cheer each other on as we build lives and careers around ALL our passions.
Learn more and join the Puttyverse community here: