Do you ever look at former colleagues and classmates with envy, because they're heading down a path you're no longer on? Have you ever wondered what an ex teacher or mentor would think if they could see what you're up to now? Do you ever feel like you've let your parents down by not becoming a bestselling author, Olympic swimmer, or Nobel prize-winning scientist?
Giving up an interest or pursuit doesn't just mean letting go of that particular project; it also means letting go of a future, perhaps even a dream, and an identity.
When you've spent years immersed in an activity and the world that goes along with it, and when you've been told repeatedly that you have a talent for that thing, you can end up feeling very guilty for not fulfilling your potential.
Do you ever feel like you're wasting your talent(s)?
A while back, a member of the Puttyverse posted in the forums, asking if any other multipotentialites felt guilty about "wasting their talents."
Although the poster had found a way to combine her artistic talents with her other passions, through illustration, she couldn't help feeling bad for not having become a "real artist." She felt her old art teachers would be appalled to know she hadn't become the big-time artist or designer they'd assumed she would be.
It turned out she wasn't the only one feeling this way. Several of the other puttypeeps could relate:
For years after Emilie lost interest in music and songwriting, she couldn't bring herself to touch her guitar because she felt guilty.
The voices in Olga's head kept telling her that any job that didn't require all of her talent, ten years of studying, and at least two degrees, was worthless. (Even though she was thoroughly enjoying her job as a video game tester.)
Maryske was overqualified for her job and, although she loved knowing she was making an impact, she couldn't get rid of a nagging feeling that she was wasting her talent.
Multipotentialite guilt, it would seem, is pretty common.
How to deal with multipotentialite guilt
Guilt is a complex thing, tied up in identity, dreams, and a lifetime of expectations. No quick trick is going to rid you of it completely. But there are a few things you can do to begin to understand and chip away at it.
1) Understand yourself and your needs
Our characteristics and personalities shape our lives and determine what we do. If we can start to understand the different parts of ourselves, we can start to understand why we behave the way we do. We can see that, being the way we are, we were always going to behave this way.
For example, my personality type is INFP. If you look at the career recommendations for INFPs, you'll find freelancing, blogging, and writing. Lots of INFPs work from home.
I have done all of these things and I do indeed work from home. So while I might have believed, when I was younger, that I'd end up working in an office one day, that was always unlikely because of my personality type.
If you're super logical, you might be more likely to become a scientist than an actor. If you're extroverted, you might be more likely to work in PR than in data analysis. And if you're a multipotentialite, you're probably more likely to explore many different fields than stick with just one.
If you can understand that other characteristics of yours determine, limit, and shape what you can do and enjoy, you can see that multipotentiality will do this too. If you're a multipotentialite, it's your nature to hop around and follow your curiosity. Try to accept that.
2) Do what makes you happy (at the moment)
Ultimately, it has to come back to happiness. Presumably at least part of you believes that using your talents would make you happy, either directly or indirectly (for example by making your parents proud).
But if you're honest with yourself, you probably know that after a year, ten years, or twenty years – however long it would take you to reach your personal end point – you would be sick of your field. Getting yourself to show up every day and work on the same thing over and over again would make you miserable.
There's no point using your talents if doing so will make you miserable. Do what will make you happy instead and use happiness as your measure of success.
3) Imagine what your life would be like
Following on from the previous point, if you want to really convince yourself that it's OK not to have become an Olympic athlete or bestselling author, imagine the life you would have to have had to get there.
What does it take to be world class at something? Training every single day. Studying the craft or science behind your pursuit. Shutting out all other distractions. Dedicating yourself to your goal 100%.
Really imagine what your day-to-day life would like. Then imagine doing the same thing for a month or even a year or a lifetime. Doing this should help you to see this dream as much less appealing.
4) Understand your hierarchy of values
Going back to our discussion in the Puttyverse, Olga pointed out that everyone has a strict hierarchy of values in their heads, and that everyone's hierarchy is different. While you might value fine art over illustration, your neighbor might value illustration over fine art.
You're probably beating yourself up for not doing something you perceive to be better than the thing you are doing, but there is no objective "better" and "best." Your hierarchy is made up and so is mine.
Fun, pleasure, and happiness, however, are more measurable. You can be happier living the life you're living than you would have been if you'd taken a different path.
Rather than feeling guilty because what you're doing isn't high up in your made-up list of values, focus on becoming happier.
5) Accept that this feeling probably won't ever go away
Most of us have grown up hearing that we have so much potential and being told we have to strive to be the very best we can be. We live in a specialist's world. Undoing a lifetime's worth of messages is going to take a long time. Be patient.
Let Go of Your Guilt
Whenever you find yourself feeling guilty for not sticking with an interest, remind yourself of these points.
Instead of worrying, put your energy into doing whatever it is that would make you happiest right now, even if that thing won't bring you success, fame, or fortune. Happiness is more important than success, right?
Thank you to the puttypeep for the advice they shared in this Puttyverse discussion.
Doing/being/exploring ALL THE THINGS is easier with a community!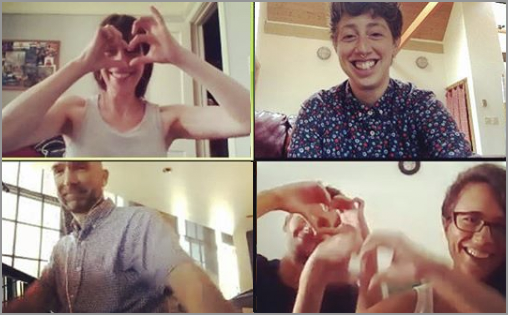 Did you know we have a private community of hundreds of multipotentialites from around the world? We support each other, share advice and cheer each other on as we building lives and career around ALL our passions.
Learn more about the Puttyverse and get notified next time we open the doors: