Have you ever started to do a little spring cleaning and been shocked by how much dust has accumulated during the winter months?
In our physical world, dust collects on window sills, furniture, and the knick-knack shelf. But have you ever considered how much dust collects in our minds over a long period?
Throughout the year(s), multipotentialites tend to collect all kinds of mental ephemera: ideas, projects they want to start, things they want to learn… You act on some of them, but others inevitably get placed on a shelf until you figure out what to do with them. And sometimes they stay there, collecting cobwebs in the back of your mind.
This becomes a problem when you start to run out of room on the shelf. Or, when the mental knick-knacks start collecting so many dust bunnies that it's almost impossible to see the beauty of what they once were.
It's hard to focus on new ideas when you have a dusty collection of older, unprocessed ones staring you down. While these ideas or plans may not be top of mind all the time, they're taking up space. It can be good to do a mental spring clean and sweep up some of the dust from the back of your mind.

You might be wondering, What's wrong with a few cobwebs in the corners? Nothing, of course. A big part of multipotentialite magic is having a bank of wonderful ideas and potential projects tucked away in your brain. But when they build up over time, they can start weighing you down.
Why you need to clear out the cobwebs
Did you know that your thoughts have shape and weight?
According to a theory by IBM physicist Ralph Landauer, the thoughts and ideas in your mind exist in the physical world. That is, they take up actual space in your skull!
Considering that your thoughts are represented physically in your brain, it makes sense that at some point you're gonna feel it. Maybe not physically— your head doesn't start leaning to one side when your mind is bogged down!—but, on some level, that information makes its presence known. This is particularly true of information that requires a response or action from you.
Think about those little red notification circles on your devices. Even if you turn off those notifications, you still know that there are people you need to respond to and tasks that need completing. It's right there in the back of your mind, waving at you whenever you (almost) have a quiet moment.
Multipotentialites get attached to so many ideas, projects, and paths! It can be hard for us to figure out how to sort through the old, dormant stuff.
Once you blow off the dust, what do you do with the things you uncover?
There are a few actions you can take to remove physical clutter from your life. I've come up with a few analogous choices that will help you sort things out and unload some mental weight. Let's start with the most extreme choice first: throw it out.
Trash it
Take a knick-knack (idea) off your mental shelf and dust it off a little. Is it just too old and moldy to recover? Is all the magic gone? Sometimes a thing you're over the moon about in September has lost its shine by April. That's okay. Throwing away an old notion doesn't mean you've failed.
Of course, on the way to the trash it's possible you'll find renewed interest in the thing. I have a game I play with my kids when we're trying to choose a movie to watch. I hold a couple of options behind my back. After they make their blind choice, we all take note of their reactions. If they're disappointed, then we know the other movie is probably better. If they feel excited, then it means they chose well.
You can do this with those old ideas. If you start to throw something away and find yourself deeply disappointed, then maybe it's worth a little more polishing. Alternatively, if you feel a big load off your mind, then you probably chose well to trash it.

You might also consider the opportunity cost. If letting that musty old hydroponic growing project go means that you can spend more mental energy on learning to speak Hindi, then maybe the old project is best left behind.
Recycle it
What if you're not quite ready to chuck your idea in the bin? You blow off the cobwebs and there's still a bit of luster to the original notion. Possibly, you could pick up right where you left off. More likely, the idea doesn't fit into your current frame of mind or circumstances as it did when you first thought it up.
Is there a part of this old idea that you can weave into something you're doing now? Or, are you ready to add a new project into your life?
For example, I once decided that I would get into art licensing. I created thousands of illustrations—everything from full pieces to small icons and decorative patterns. After doing this for several months, I got pulled into a large client project and couldn't work on the art anymore. Every once in a while, it waved to me from the back of my mind.
A few years later, I had some free time and opened up the old files again. I wasn't quite as keen on following that art licensing path again, but I did love the illustrations I had created. I was too attached to give them up.
Instead of saying a tearful goodbye and heading to the trash, I decided to recycle them. I chose some of my favorites and turned them into a coloring book for adults. I was able to release the weight from my mind by using them for something new.
Sometimes recycling an idea can also give you renewed energy and inspiration: a bonus benefit of spring cleaning!
Give it away
What if you're not super attached to an idea or venture any longer, but you feel like it could still have a life? Maybe you could find someone who would love to run with it and give it new life—perhaps you already know them!
My late grandmother (very likely a multipod) would often invite my aunts into her chaotic mess of a craft room and tell them, "Just pick one of these and take it away!" "These" were the myriad colorful crochet, knitting, and sewing projects that were strewn about. Grandma was a world class project-starter, and she often found herself literally boxed in by dozens of crafts at once. She was clever enough to call my aunts to the rescue!
Unfinished craft and art projects are great candidates for a hand-off. If you find someone who is passionate about what you've started and wants to take it over, you can free your mind and still experience the satisfaction of eventually seeing a finished product.
Obviously, if the back of your mind has been itching to learn a new language, that's not something you can hand off. Learning goals and private creative projects are not good candidates for giving away. Making peace with throwing them away or recycling them for your own use would be your best options.
In The Puttyverse, there are tons of people open to hearing about new projects or ideas. Many a multipotentialite has tossed out an idea in the forum or asked for help and received numerous responses.
Just like when you trash an outdated idea or plan, handing off a dormant project doesn't mean that you've failed. In fact, it can be a cathartic way to free up your energy for ideas you're currently in love with and have time to work on.
Is it time for spring cleaning?
Over time, everyone collects plans, goals and ideas. Even if you never bring them into the physical world, they exist in your mind. They take up space, sometimes tying you down with invisible webs. Some of us are better than others at letting these mental knick-knacks go, but we all have to deal with the junk shelf of our minds.
For some of the world, spring is almost here. Others are heading into autumn. Luckily, there's no wrong time of year for a spring cleaning of the mind. Throw open the windows. Let in the breeze. Put on some good music. Then start shaking out the rugs in your multipotentialite brain.
Your turn
Do you have multiple projects clogging up your mind? Any plans on what you might do with those brilliant multipotentialite ideas? Share your strategies in the comments!
Doing/being/exploring ALL THE THINGS is easier with a community!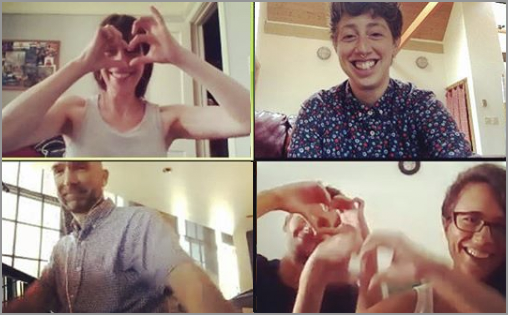 Did you know we have a private community of hundreds of multipotentialites from around the world? We support each other, share advice and cheer each other on as we build lives and careers around ALL our passions.
Learn more and join the Puttyverse community here: