A couple of years ago, I started a discussion in the Puttytribe, asking the puttypeep to help me come up with a list of classic multipod behaviors and situations. What followed was a hilarious conversation that in turn led to a Puttylike blog post called You Know You're a Multipotentialite when…
Well, that community-wide discussion in the Puttytribe is still going; it's one of our most popular conversations ever. So I figured it was about time we published the second installment of You Know You're a Multipotentialite When…
You know you're a multipotentialite when…
You hear an ad on the radio for an amateur competition. It's something you always wanted to try. You get really excited about the idea. Until the end of the ad when they say, "open to kids aged 12 to 18." And you think, "Why do kids get to have all the fun?"
You tell someone 1/10th of the stuff you've done and they say, "Is there anything you haven't done?" Then you realize you forgot to tell them about the time you were a spy… or an aerial dancer… or a million other things you forget to give yourself credit for.
You're applying for job #2 in field B in order to get out of job #1 from field A, while you're already researching possible jobs (yes, plural) #3 in fields C, D, E, F, G, and H that could be the successor of job #2, which you don't even have yet.
You can easily name a dozen different careers that you'd love to try out, and you know exactly how and where you could get the necessary qualifications for each of them… if only you had the time and money.
You tell someone your day job, and utter confusion contorts their face. They struggle to reconcile the skills you've displayed with the skills required for your job, and finally say, "I never would have guessed that."
You come up with another idea for a new business, design the product, brand it, market it, put it out into the world, hire some friends to work with you, get a nice office in a loft space overlooking a new city, redesign the website, release an app, eventually sell a few shares in your wildly successful company to some big-shot VCs (without selling out), so you can buy a nice house to move into with your significant other and get a dog… all while keeping the company running… and continuing to go to work every day with a big smile on your face… …all while having a shower! 😉
You can't settle for writing one answer on this thread.
You have too many business cards, and are never sure which one to give to people.
You read one page of comments on "you know you're a multipod when…," write your comment, realize you've missed a couple of pages of the thread, see Doug's link on the page you're taken to after adding your comment, pointing to another thread, so you go and devour that, all the while thinking of ways to programatically merge both threads into one super-thread, plus design some AI for the comments system on the website, which will suggest an existing thread that you should really be posting a comment to, so you don't miss other people's discussions in future.
Your home library looks like a used book store, and you can't ever seem to figure out a good way to arrange your books.
You're in 4 different social groups and on the fringes of others, several of which have instinctive tribal loathing towards one another. You have to lie about where your ideas come from, because the sources are often verboten. But you realize how similar in mindset the groups actually are.
In the span of a day, you go from working on your business to laying down vocals on a new song to a going to a dance rehearsal to planning 5 international trips to researching climate change to reading one (or all) of 10 books you're "super excited about" to helping a friend to meditating to journaling to researching tiny homes to wondering why no one gets all that you do (except for the Puttytribe)!
Doing/being/exploring ALL THE THINGS is easier with a community!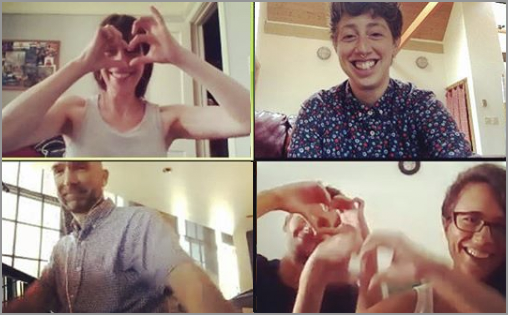 Did you know we have a private community of hundreds of multipotentialites from around the world? We support each other, share advice and cheer each other on as we building lives and careers around ALL our passions.
Learn more about the Puttytribe and get notified next time we open the doors: