Last year, I went on a self-improvement ban. After years of feeding myself advice on how to develop a morning routine, streamline my tasks, and optimize my life in general, I'd had my fill. When you're always focused on improving, it's like you're always living in the future. I felt like a freeway that's perpetually under construction, but not really going anywhere. And I wondered what would happen if I took a break from optimization.
As an experiment, I vowed to stop listening to productivity podcasts, put down the self-improvement books, and step away from the never-ending supply of apps that promised to make my life better. Did I want an improved, streamlined, more efficient life? Sure, these things are great. And certainly there's a place for self-improvement, but does it take a toll on our mental health to be a constant work in progress?
When self-improvement becomes counterproductive
I'm not the only one with a self-help hangover. In a recent New York Times piece, writer Kate Carroway describes the limitations of self-improvement as we know it:
"So much of current, trendy self-help dovetails with business management and entrepreneurialism… But the self-consciously edgy formulas, and the even-cornier, prescriptive, top-down self-help books that engendered them, don't necessarily wonder. They skip over the energy of empathy, warmth, tenderness and inclusion that is the best stuff of the millennial imagination."
Carroway argues that there's a whole new crop of self-improvement that's more about self-care, self-compassion and self-acceptance than it is optimization.
That's not to say standard self-help can't be, well, helpful. Debt, depression, decluttering, getting a promotion—some problems need straightforward solutions. But the definition of self-help gets murky, and amid those issues, there's an entire sector built on convincing you that there's something wrong with you, that any discomfort you feel is a fatal flaw that needs fixing.
Your flaws might not be flaws
A good example of this is imposter syndrome. Which is not actually a syndrome, but a term that psychologists Pauline Clance and Suzanne Imes used to describe women they studied who, despite their ambitions and achievements, felt unqualified in their careers. Imposter syndrome is a catchy way to describe what it's like to feel unsure of yourself in a new position. Maybe it's okay to feel unsure of yourself sometimes. But in a culture that reveres and rewards confidence, extroversion, and assertiveness, this feels uncomfortable to say.
We're taught to believe that questioning yourself is a weakness, which is perhaps why imposter syndrome is most attributed to women, despite the fact that men also experience it—toxic masculinity doesn't allow for vulnerability. We think of vulnerability as a flaw because it feels uncomfortable and we're wired to think discomfort is weak. But as Brene Brown says:
"Vulnerability sounds like truth and feels like courage. Truth and courage aren't always comfortable, but they're never weakness."
On the other hand, you don't want to let imposter syndrome keep you from making progress in your career. But confidence can do that, too. Confident people can overestimate their abilities, for example, falling for a cognitive bias called the Dunning-Kruger Effect. That can be just as harmful as doubting yourself, yet we don't call confidence a syndrome.
Plus, questioning yourself serves a purpose. My own imposter syndrome can be annoying, but it also keeps me on my toes. As a writer, I feel like an imposter often, but the feeling was especially strong early in my career. In order to protect my ego, I didn't take an editor's markups too seriously—I told myself they were just being picky or they didn't "get" my voice. But rejecting feedback is a bad move for a new writer. It's proven to be much better for my career to consider their notes and look for ways I can improve.
It's also been shown that people who doubt their abilities are usually more competent and open-minded than people who claim to be the best at something. So if you feel like an imposter, you're probably not—but maybe it's okay to question yourself every now and then. (Of course, sometimes you're made to feel like an imposter, and that's a different story.)
What we lose to the lure of productivity
Control is a big part of all of this. Self-diagnosing ourselves with a problem, and then working on self-improvement, is a way to control a situation—which feels good. Sometimes we even convince ourselves we have a problem just so we have something to fix, because fixing feels productive—think of all the times you've written something on a to-do list just for the satisfaction of crossing it off. But sometimes magical things happen when you accept the situation and go with the flow. It's like when you were in high school, struggling with a difficult math problem. You get up to do something else, then come back to the problem later, and the solution is right in front of you.
Sometimes our best insights and most meaningful moments happen when we're not totally focused on the grind or getting the next thing checked off the list. Productivity feels good because it feeds our human desire for understanding things and fitting them in neat little boxes. But that desire—that aversion to messiness—can be overrated. Engaging with a project or piece of work should be allowed to leak into other parts of our lives, since that's where the juicy intersections are.
Don't throw away parts of yourself
I don't know about you, but it feels liberating to consider that maybe I don't need fixing. Multipotentiality is another good example of a strength that's been improperly branded as a flaw. If you've been told to specialize your entire life and stop being a "jack of all trades," it probably felt liberating to discover there's a whole community of people who have not just bucked that advice, but also learned to use their multipotentiality as a strength.
After my ban, I realized that the self-help content I consumed had encouraged me to throw away parts of myself that were unique, interesting and, ironically, useful. Don't get me wrong, I still like the occasional productivity tip. There are days I crave efficiency and it feels good to get through my to-do list because I've successfully implemented batching or finished some "deep work" because the Pomodoro technique really does help. But maybe the ultimate way to improve yourself is learning to be okay with who you are, even if you're not a fully optimized human.
Your Turn
How do you feel about self-improvement? Has it ever felt counterproductive to you, and what advice would you give someone else for finding a healthy balance between self-improvement and self-acceptance?
Doing/being/exploring ALL THE THINGS is easier with a community!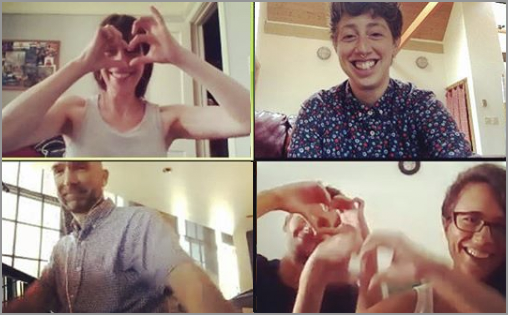 Did you know we have a private community of hundreds of multipotentialites from around the world? We support each other, share advice and cheer each other on as we building lives and career around ALL our passions.
Learn more about the Puttyverse and get notified next time we open the doors: