Puttylike contributor Davide Greco photographs multipotentialites in their many habitats and interviews them about their many passions. This week, we're featuring some first images from his To Be or…To Be? project, accompanied by his fabulous subjects' own words (translated from Italian, of course!).
I admire the contrasting ways in which these women have conceptualized their careers. Debora has woven together her different endeavors into a solid overarching theme; connecting psychology and dance to a core value of emotional authenticity. Camilla is more of a slash careerist, keeping her passions distinct but parallel. And both of them have a lot of diversity in their activities: inwardly-focused versus extroverted work, for example. I can't wait to see what you take away from these stories!
Debora // Psychologist + Dancer
I started dancing at the age of six. In addition to classical ballet, I have studied contemporary dance, contact and character. Now I'm working with Lindy Hop and Charleston, as well. When I was a child, dancing was like living in a special moment, both enjoying and concentrating at the same time. Today, I use dance as a time dedicated to myself, in which I feel free to enter my emotions and to process them with my body and movements.
Dance and Psychology have many similarities. You have to be honest with yourself; you cannot pretend to do or be something, it must be genuine. In both disciplines, accepting and intimately understanding yourself can draw out many kinds of resources. As a professional, I believe that psychotherapy is itself a form of art. It is creative, expressive and open to innovation.
In psychotherapy, it is important that a practitioner can find a common code to share with a patient. Sometimes the use of images and metaphors make it possible to reach the core of that relationship. In therapy, as well as in dance, there are characters and scenes waiting to be interpreted, to which we try to give voice. Emotions are the thread that connects psychotherapy and dance. Dance without emotional communication is simply gymnastics.
For a number of years, I have had a show in mind that would put a combination of dance and psychotherapy onstage. It is a bold project and I do not know if I'll ever achieve it, but for now it's in the pipeline. I probably need a dose of courage to pursue it.
Camilla // Ceramist + Dubber
I've always had a passion for design, especially for jewellery. Ever since I was a child, I have dabbled in creating 'wearable objects'. Acting has always been a part of me, too. Even in primary school, I loved the stage.
Italy has a long tradition of dubbing films into Italian; it's as culturally relevant as pasta and slow food! I attended a theater school while studying at high school, and another one during university. I eventually graduated with a thesis on dubbing. Dubbing is a gratifying career, which gives me the opportunity to express myself and to improve at many levels.
In 2012, I began another wonderful adventure when my sister and I founded a jewelry business called Jamais Sans Toi. This step allowed me to work with my sister, Valentina. It also gave me the privilege of entering a world to which I've always felt called—design and hand-made artisan work.
We work in clay, which comes from Valentina. She studied sculpture at art school and earned a diploma as a ceramic restorer. The idea of building a project with her motivated me and intrigued me a lot. We get along very well!
Acting, dubbing and handicrafts are far-away worlds in many ways, but they all travel parallel in my heart.
Your Turn
What worlds do you bring together in your life and your work? If you were the subject of a multipotentialite photo shoot, what locations would show your many sides?

If these images + stories resonated with you, check out the second installment of What Does a Multipotentialite Look Like?
Doing/being/exploring ALL THE THINGS is easier with a community!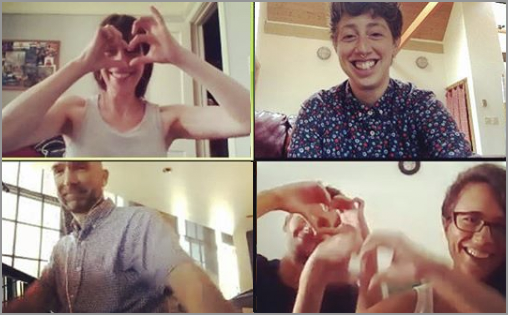 Did you know we have a private community of hundreds of multipotentialites from around the world? We support each other, share advice and cheer each other on as we building lives and career around ALL our passions.
Learn more about the Puttyverse and get notified next time we open the doors: