I stared at the ceiling, lying awake in my flimsy Ikea bed in an achromatic Danish dorm room. It was 2010. I was an exchange student, finishing my last semester of law school abroad. But I didn't want to be a lawyer.
This was the first time I admitted to myself that I was different, and that that was okay. I didn't have "one true calling," and I was done trying to force myself into a box–done feeling bad about having many interests. From here on out, I was going to embrace my whole self and find a way to explore multiple subjects in and beyond my work.
I didn't realize it at the time, but this buildup of anxiety and distress, and the calm feeling that came after naming the truth was somewhat familiar. I'd had similar sleepless and revelatory nights a few years earlier, when I was coming around to the idea that I was queer.
I've been thinking about this a lot lately: the similarities between the terms "multipotentialite" and "queer." They are words I hold dear–two of the few labels I actually like and use to describe myself. Interestingly, they have a lot in common.
Many of us multipods go through youth and early adulthood feeling like there's something wrong with us. We might worry that we don't have a purpose and feel different in some fundamental way. The parallels to growing up queer are obvious. In both cases, we might feel a sense of shame or confusion, or feel like we don't "fit," but not understand why. Most of us, both queer folks and multipotentialites, worry at some point that we will never be happy living the life that's expected of us.
And I think, to me, the processes of coming out as queer in my mid-twenties and then as a multipotentialite a few years later were both about reframing something that society traditionally looked down on. It was about seeing my as-yet hidden strengths, and naming them. In both contexts, I had reached a point where I was fed up of disliking myself and trying to fit myself into moulds that just weren't right for me.
The story of the word queer, itself, is one of reclamation. Over the century, it's transformed from a regular word, to a sometimes-slur, to a rallying cry. (The history of that evolution is complex and really fascinating. You can read more about it here.) For me, queer is a badge of….well…pride. When I hear it, I instantly feel fondness and affinity. I know this instinctive reaction signals that I am lucky. It means I live in an open, accepting culture. But my brain's first reaction to the word queer in almost any context is: whatever we're talking about is going to be awesome. And that's pretty neat.
There's another reason I love the word queer. Queer is similar to multipotentialite in that it's a non-specific term that only tells you what I am not.
Queer doesn't tell you who I'm attracted to, and it doesn't describe my gender identity. It describes what I am not: a straight, cis person. It says: what I am is really my business, and also don't try to box me in (but maybe I'll share more info with you during a conversation, if I want to.)
Multipotentialite, similarly, only tells you that I'm not a person with a single focus in life. It doesn't tell you what I do or what I'm passionate about. That's for me to share, if I wish. And if the person I'm talking to knows anything about multipotentialites, they'll hopefully understand that whatever I choose to share isn't the totality of who I am.
(This is one of the reasons folks feel so free to talk about a particular project or career in our community forums and events. They know they're talking to a bunch of other multipods who will naturally assume they have other interests, too. They know they won't be pigeonholed.)
Both queer and multipotentialite identities leave room to flex and explore. They leave it up to you to be more specific, if you like, and to elaborate in a way that feels good, depending on the context.
What's even cooler is that these identities can withstand the shifts that happen over the course of a life. Assuming they're still how you want to identify, no new job or new romantic partner is going to take away who you are. These are spacious words, which is great because we all know how limiting labels can be.
These two identities are the ones I most closely adore and associate with. They both tell you what I am not, they don't tell you much more, and I really, really like that. They say give me enough room, and see what I can do.
Wishing you all the space you need to grow, explore, and name what you are for yourself.
Your Turn
What labels do you like and use? Do you have any identities that are spacious and feel freeing? Let's get a discussion going in the comments below!
Doing/being/exploring ALL THE THINGS is easier with a community!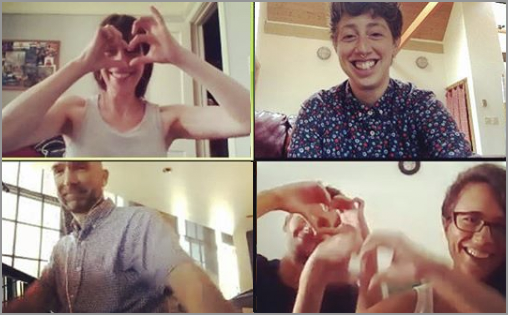 Did you know we have a private community of hundreds of multipotentialites from around the world? We support each other, share advice and cheer each other on as we building lives and career around ALL our passions.
Learn more about the Puttyverse and get notified next time we open the doors: