I have a love/hate relationship with goal-setting and planning. It's exciting to make new plans or set a goal, but not as exciting—or easy—to stick with it. Over the years, I've figured out a few tricks to staying on track, and I'm going to share them with you.
At some point, we've all made plans for our projects, our health, or for learning something new. We set goals with hopeful ambitions of what will be, but sticking to those goals is where things can get a little tricky. The famous New Year's Resolution comes to mind—something often made and rarely achieved.
No matter what time of year it is, our goals can get away from us, causing frustration and guilt, and eroding our self-confidence. This is particularly true for us multipotentialites, as we regularly load ourselves up with interests and projects. There are several reasons why this happens. Some of them we can control and others are plain ol' circumstance.
Let's get into some of the reasons our goals escape us, and then I'll lay out some practical ways to address each one.
Life happens
Life is what happens to you while you're busy making other plans
As a multipotentialite, I'm frequently making new plans and setting goals for all the things I want to do. When I make my plans, I factor in things like:
How long do I think it will take?
Will it cost money? If so, how much?
Will I need help from anyone else?
One thing I typically forget to factor in probably has the most significant impact: life.
A couple years ago life inserted itself firmly into my plans and I was completely thrown off track.
In fall of 2019, I started writing a book on a subject that I am passionate about: customer service. I've been working in some form of retail customer service since I was 14, and I had years of notes and ideas to work from. I had trained hundreds of people in creating great customer relationships, and had learned a ton of new things along the way. It was finally time to put all my experience and knowledge into a book.
By the holidays, I had a solid outline. By February of 2020, the book was written and I was laying it out and creating illustrations. The project was a multipotentialite dream.
As February turned to March—well, you know the history. COVID-19 had made its ugly way around the world. While I was concerned about that for myself and my fellow humans, I didn't let it deter me from completing my book project, at least not right away.
I had big plans for marketing the book. Since I was self-publishing, I had been working hard to line up interviews, YouTube videos, articles and a well-planned social media campaign. That is, until businesses started to close and people stopped going out to shop.
Since the audience I was speaking to was mostly small, brick and mortar businesses, all the methods I was touting suddenly seemed useless. After all, you can't create a great environment for customers if you can't even have them inside your store.
Suddenly, the environment the book was based on was rapidly disappearing. I sought advice from friends in marketing, who collectively agreed that it was "just the wrong time for this book." I pulled the plug on the promotion. I quietly published the book to use as a portfolio piece, but the project as I had envisioned it ended. I was angry at the world situation and disillusioned that I hadn't achieved my goal.
Life gets in the way sometimes. Our plans can get derailed by circumstances beyond our control. But what happens when life is humming along in total agreement with our plans, but we get in our own way?
The problem of feelings
Wouldn't it be great if we could become emotionless robots just so we could carry out our plans and accomplish our goals? Okay, maybe "robotic" is not an ideal state of being, but sometimes our feelings can be an obstacle on either end of the emotional spectrum—i.e., we're just not feeling it or we're feeling it too much.
Not feeling it
When we're starting out with a new project or making any kind of plans, we feel the dopamine rush of excitement. We are certain that nothing will stop us from reaching our goal. How could it? It's just too exciting!
Then, weeks later, we're just… not into it. Meh. We could work on the project, but doing laundry sounds so much more enticing. Sometimes a feeling like this only lasts a day, and sometimes it spans months.
Multipotentialites, in particular, have to contend with this problem—especially because it's so easy for us to fall in love with a new idea very quickly. Even if we've made solid plans for a project, it can suddenly take a back seat when a new interest pops up. The ambitious goals we set for ourselves start to feel like obligations, rather than hopeful future milestones.
Feeling it too much
The flip side of "not feeling it" is when we feel too much about something we plan to do. A common multipotentialite pattern is getting so psyched about an endeavor that we become paralyzed. Thoughts buzz around our brains that keep us from even taking the first step.
What if I mess it up? What if I'm not worthy of this goal? What happens if I decide I don't want to continue. Would that make me a failure?
While those thoughts block us from starting, they ironically come from a place of excitement. And since no one wants to make plans about something they're not excited about, it can become a vicious circle.
Keeping up with the Joneses
Another outside influence that can derail our plans is other people. I don't mean our partners, our kids or our besties who won't let us say no to happy hour. The derailer I'm talking about is the competition monster.
The competition monster is the thing that makes us scroll through social media convinced that everyone else is doing more and better than we are. The internet is filled with admirable people who always seem to be posting about their amazing achievements. Friends and acquaintances seem to be constantly shouting about their latest success, while we feel like we're just as quickly getting nowhere.
When my book launch fell apart, the competition monster wouldn't let me forget about an acquaintance who had published a book and launched an entire online learning system just as I was close to finishing my project. I wanted to support her—and I did—but on the inside I was cringing. It didn't matter that her project was coincidentally in tune with the millions of people suddenly working from home. My competition monster was turning an ugly shade of green. I would be lying if I said that comparing my project to her work wasn't a small factor in shutting down my book.
The comparison monster can derail us faster than a gap in a railroad track.
How to stay on track (Or get back on track, or make sure you're on the right track…)
Now that we've discovered all the ways our goals can get away from us, we should talk about how to wrangle them back into our life corral. There are some surprisingly simple ways that we can get back on track – or prevent ourselves from losing our way in the first place.
Give yourself room to reassess your goals and plans
It's pretty easy to become rigidly attached to our goals, as I did with my book project. While it's helpful to set goals for ourselves, it may be more pragmatic to think of goals as a loose framework rather than an edict written on a stone tablet.
As you plan out your projects, factor in life stuff. I guarantee things are going to happen that will nudge you out of your lane. While you're scheduling milestones, build in space for the unexpected. Account for the fact that your circumstances, and maybe even your desires, are very likely to evolve over time. Every now and then, review your goals and allow yourself to reassess them.
Dump the guilt for taking time off
When we set goals, they easily become little "shoulds" on our task list. We set ourselves up to feel guilty because we "should" be working on our project. The truth is, we sometimes don't feel like it. That's called being human. And forcing yourself to work on something you're just not into is a one-way ticket to producing something uninspired.
Rather than get in your own face like an overly aggressive personal trainer, allow yourself to take time off and recharge your batteries. If you're worried about losing track of a project completely, it can be helpful to set a date when you will come back to look at it again—not necessarily to dive back into work, just to take a look around and see how you're feeling. If you've got your gumption back, then reassess your timing and adjust your goals accordingly.
Conversely, if you feel paralyzed by your boundless enthusiasm, try breaking down your larger goal into the tiniest chunks possible. For example, let's say your goal is to create a series of paintings to exhibit by the end of the year. Forget about the end result and start with the smallest beginning. Go to the art store and just touch some brushes. Feel some canvas. Flip through the French watercolor paper. Check out all the pretty paint colors without a predetermined idea of how you'll use them. You could even just aimlessly doodle with a pencil.
If you combine enough of those tiny steps over time, you'll eventually have your series.
Set your own pace
Rather than try to keep up with everyone else, you do you. Don't give the comparison monster a comfortable place to sit.
While you're working on your project, you might hear about a friend's new website launch that seemed to take only minutes to snap together. On the surface, it can seem like you're going at a snail's pace in comparison. The truth is, your friend's website likely took months to plan and execute—you only saw the launch.
It's likely you're doing just fine where you are. Or, maybe you can kick things into a higher gear. That's only for you to decide. If you do have to reassess your plans, do it on your own terms.
Plan for things getting away from you
Whether it's the competition monster, just not feeling it, or life happening, there are always going to be obstacles in our path to planning perfection. Being aware of those potential obstacles early on can help us successfully accomplish our goals—and be ready for when things go sideways.
If your goal-getting isn't going as planned, dump the guilt about stepping away for a bit and reassessing. Try to ignore the Joneses; they will always be there and keeping up with them isn't your job. And, of course, factor in some life happening along the way.
Planning for your goals to get away from you isn't planning for failure. In fact, it's super smart. You may even find that it makes you feel better about dreaming big—whether it leads to success, failure, or something in between.
Your turn
Have you had your goals get away from you? What kinds of things did you do to get back on track? Share your experiences in the comments!
Doing/being/exploring ALL THE THINGS is easier with a community!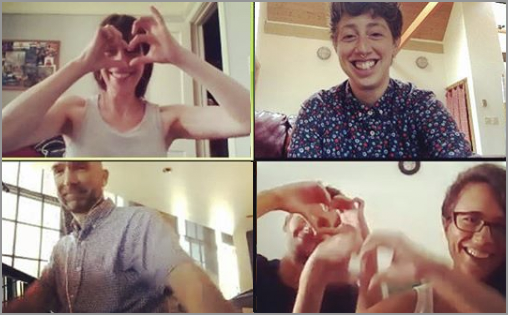 Did you know we have a private community of hundreds of multipotentialites from around the world? We support each other, share advice and cheer each other on as we building lives and career around ALL our passions.
Learn more about the Puttyverse and get notified next time we open the doors: