The other day, someone in the Puttytribe started a discussion in the forum asking what a "puttypeep" is. English wasn't their native language and they didn't quite get it.
I posted a reply and then realized how helpful it might be to share my response here on the blog. I bet she isn't the only person who's been wondering.
Before we get to "puttypeep," which is the term we use for the awesome members of the Puttytribe, let's talk about "Puttylike" and the whole putty thing. What does it mean and how did we get here?
What does "puttylike" mean?
I named this site back when I launched it in 2010. My goal was to come up with a catchy title for this idea I had for a website to help support people like me who have multiple passions and curiosities.
I was brainstorming by using my favourite brainstorming tool, thesaurus.com, and I came across this entry. Here are some of synonyms they list for puttylike:
accomplished, adaptable, all-around, functional, gifted, resourceful, skilled, skillful, talented, able, adroit, all-purpose, ambidextrous, conversant, dextrous, ingenuous, many-sided, multifaceted.
It's funny because "puttylike" isn't actually in the dictionary even though it is in the thesaurus. But I'm defining it in my forthcoming book as follows:
Puttylike (adj.): "Able to embody different identities and perform a variety of tasks gracefully"
About a year and a half after Puttylike was launched, I started the Puttytribe — a play off of Puttylike. I thought it would be fun to have a term that we could all use to describe ourselves in there so I decided to keep the putty theme going and use puttypeep ('peep' as in people).
There's also definitely a Silly Putty connotation going on. I think it's a decent metaphor for multipotentialites. Silly putty is this colourful, malleable stuff that stretches, changes shape and bounces.
Video proof…
I can't believe I'm doing this, but here is a video that I posted on the sidebar when I first launched Puttylike in September 2010, six years ago. Please enjoy the hair:
#babyemilie
*Sigh* that was embarrassing. 🙂
Doing/being/exploring ALL THE THINGS is easier with a community!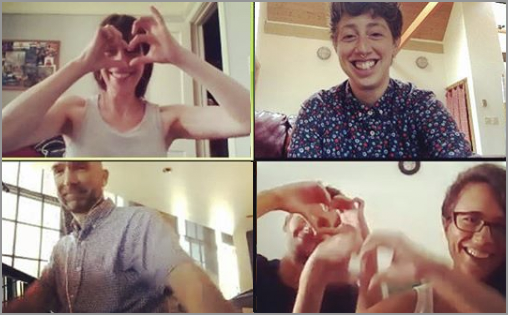 Did you know we have a private community of hundreds of multipotentialites from around the world? We support each other, share advice and cheer each other on as we building lives and careers around ALL our passions.
Learn more about the Puttytribe and get notified next time we open the doors: