Where's your light?
In a world where most people focus on pursuing just one or two things, it can feel weird to be passionately interested in a large variety of possible pursuits. Once or twice I've even kept myself from doing a new thing because I felt a little odd, like maybe I shouldn't allow myself to get into so many different things at once.
Maybe you've felt that way, too. A lot of multipotentialites I know have felt that way at one time or another. There's an old saying, Don't hide your light under a bushel, which I've come to embrace over the years.
I want to talk a bit about why we shouldn't hide our light, and what that even means. First, I'd like you to play a game with me.
I'm going to present you with an imaginative premise to consider, a sort of Choose Your Own Adventure. You'll probably recognize the theme from films like Close Encounters of the Third Kind, Cocoon, or Muppets From Space (my personal favorite). There was also a brief discussion of this in our Puttyverse forum—it's a well-known trope.
Let's pretend!
So, what if I told you…
A spaceship has landed on Earth. Friendly extraterrestrial beings invite you to come on board and travel the stars with them. You'll be fed delicious, nourishing food and you'll have everything you need to survive. You can even bring your family if you like (assuming they are willing, of course). In this ship, you'll visit new worlds and meet different species of beings. You'll explore the cosmos! It's an unprecedented opportunity to see distant galaxies in person.
The beings insist upon just two conditions:
First, if you choose to go with them, you will spend your life contributing your best gifts along the way. They explain that the ship and its beings will only thrive if everyone is passionately using their skills, with their whole hearts. You can choose to contribute however you wish, but you must put your whole self into your pursuit—whether that's cooking, playing music, making scientific discoveries, helping to keep the ship's engine running, or performing stand-up comedy to keep everyone entertained. It's even possible to choose multiple things if you like, or to change your contributions as the years go by.
The second condition to consider is that if you go, you'll never see Earth again. The ship only comes to our planet every thousand years or so. You'll be traveling for the rest of your life. You might want to bring your favorite stuffed animal and your recipe book.
The considerations of a lifetime
Now that you've been presented with an amazing (and certainly life-changing) opportunity, you have some considerations to make.
First, you just met these beings. Can you trust them? For the sake of this mental adventure, let's assume they've been vetted by the best minds on our planet and deemed trustworthy. Pretend they've proven themselves somehow. They're not going to turn into lizards and eat you. They're also not going to drop you off on Mars chuckling, "Good luck getting home, fool." We can move past that fear.
But what about other fears, like the fear of unworthiness? You might wonder, what if my gifts aren't enough? Am I even worthy of this species and this trip? Will my contributions be silly or will they be useful?
There's a lot to consider here. You'll be flying around the universe in a contained space with a large number of other beings. You'll have the opportunity to choose the way(s) in which you want to contribute to this society. It might be a massively rewarding life, or it could turn out to be the toughest thing you've ever experienced. It might be both.
Think about it for a bit, then let's move on.
Welcome aboard Spaceship Earth!
Welcome aboard and congratulations, Friend. Not only did you just play a little adventure game of the mind, but you are also living out this scenario right now. You are here with me, zooming around the universe in a spaceship we call Earth!
Pretty cool, right? What an opportunity! Of course, in this case, you weren't given a choice about joining up. You were born on the ship.
Regardless of your choice in that matter, the big considerations remain. What will you contribute to this society? How will you use your unique gifts? Which gifts will you use?
The truth is, It doesn't matter what you choose. You have the absolute right to use whatever gifts suit you best. You may still wonder whether those gifts will be useful. Many of us do this on a regular basis. However, the light in the "don't hide it under a bushel" proverb is not what you contribute, the light is you contributing with all of your heart, in a way that makes you shine.
As multipotentialites, we have a unique opportunity to contribute many gifts over time, in our own unique ways and with full passion. We owe it to ourselves—and to Spaceship Earth—to explore our interests and develop as many skills as we are inspired to do. If we hide our true selves because we feel we're not worthy or not useful, we'll be doing the world and ourselves a disservice.
This spaceship needs you. It needs you to contribute your whole self. If your whole self has multitudes of ways to do that, then forge ahead. You're already on board.
Your turn
Would you leave Earth forever for an intergalactic adventure? What gifts and talents do you contribute to "Spaceship Earth"? Weigh in with the community in the comments!
Doing/being/exploring ALL THE THINGS is easier with a community!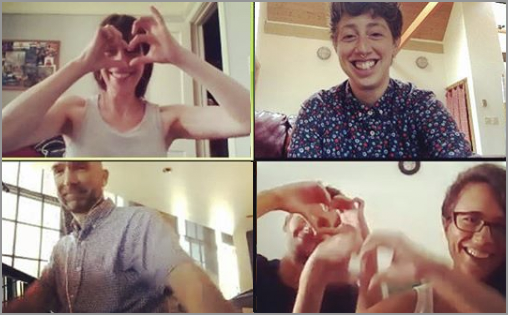 Did you know we have a private community of hundreds of multipotentialites from around the world? We support each other, share advice and cheer each other on as we building lives and career around ALL our passions.
Learn more about the Puttyverse and get notified next time we open the doors: