I first noticed the ukulele at the ice cream shop. It was crafted from glossy Koa wood, and the minute I plucked my fingers against the strings, I knew I wanted to buy it. No way, I told myself, paying for my popsicle and getting out of the shop as quickly as possible. My schedule was already so busy studying Spanish, surfing, longboarding, writing, and working on my business. It was an absurd time to learn a new instrument. I had also just moved to a beach town in Mexico and if I were going to be watching YouTube on a loop, I should be brushing up on my salsa moves, not learning ukulele chords. No harm in learning a song or two, the devil on my shoulder whispered. It will just end up gathering dust in the corner, the practical angel shot back.
I resisted the temptation to buy the ukulele and kept to my existing projects. A few weeks later, I injured my knee in a scooter accident. I was crushed—I'd have to spend two weeks with my leg propped up in bed without surfing, longboarding, or salsa dancing. But even though my knee was throbbing in pain, I had a devilish grin. It was the perfect opportunity to try out the ukulele.
When I look back on the past decade of my life, I've seen this scenario unfold time and time again. I studied Spanish in college and spent a semester abroad in Buenos Aires. I loved the language, but didn't make the time to speak or study regularly for 8 years. I always felt a twinge of guilt about this unfinished project, and every so often would vow to finally download DuoLingo or find a conversation partner. This past year, I relocated to Mexico, where I get to speak Spanish every day. My desire to learn the language never faded; it just wasn't the right time. I only wish I had had patience and trust that the opportunity to pursue the passion would emerge in the future—once I had established my career and dabbled in a few other projects.
As multipotentialities, we can sometimes feel overwhelmed by our curiosity and hunger to pursue new businesses or projects, read every book, or learn multiple languages, instruments, sports, and fill-in-the-blank-with-your-thing-here. Sometimes, I'll feed into a scarcity mentality and feel anxious that there won't be enough time to learn and do everything unless I start it all right now. This leads me to create a self-sabotaging trap where I overload myself with ambitions and then feel guilty when I don't have time to commit to it all.
Here are a few tips for knowing when it's the right time to pursue something new and when it's best to file away a seed of curiosity and trust that it will make its way back to you:
1. Sit on it
I once read that if you decide you want to quit smoking, you should think about it for a week before you actually put the cigarettes away. I think this is good advice for pursuing a new hobby or launching a project, as well. The beautiful thing about being a multipotentialite is that we can be curious about almost anything! But having a passionate curiosity for something might not translate into wanting to dedicate the hours to really learn it.
Once, after going to a music festival, I came back completely psyched to become a DJ! After some light googling, I realized I would have to download all the songs I wanted to mix (adorably, I thought I'd do it on Spotify) and I knew it wasn't the path for me. When a new inspiration hits, give it a few weeks or months and see if the desire keeps coming up. Take the time to reflect and be honest if you're interested in diving deep into the process or just want to fast-forward to the presumed outcome. I was definitely more excited about traveling the world as an international DJ than sitting at my computer and tweaking frequencies on a software program. If the desire naturally floats away after the initial inspiration, let it go!
2. Reflect on how it fits into your portfolio of pursuits
I learned to surf this year, and the first couple of months were very challenging. And when I say challenging, I mean demoralizing. I spent at least half of my time in the ocean getting whirled up by waves and swallowing liters of saltwater. It took a couple of months of consistent practice to get to a level where I was actually having fun.
The early phases of learning something new can be exciting, but can also involve a lot of failure and rote practice. Do you currently have the time and patience to commit to being bad at something before you start to find your flow? Everyone is different, but I also like to consider how a new endeavor fits into my portfolio of pursuits. I like to have at least one active project or hobby where I feel very confident to balance out a project where I am starting from scratch.
3. Trust there is a season for every call of the soul
My favorite part of being a multipotentialite is that I have an abundant array of coping mechanisms and curiosities to carry me through different seasons of life. Injured and stuck in bed? Time to strum on the ukulele. Quarantined for a global pandemic? Spend two hours a day alone in a parking lot learning to longboard dance! Failed business? Well, now it's time to pursue your writing career.
Being a multipotentialite is such a gift, because we're able to adapt when life throws us challenging circumstances. Every time I make the intentional choice to feel ease instead of guilt when I put a project on hold or save an idea for later, I build my trust muscle in myself. Whenever I feel a flash of inspiration and then decide, Hey, that's not for me, I strengthen my commitment to my true callings: the ones that keep coming back.
If you ever feel overwhelmed with your curiosities…
…Or with your desire to pursue new endeavors, you're not alone! Take a deep breath, turn inwards, and sit with the feelings that come up for you. Life is a series of seasons—of rain and drought, summer and winter, beginnings and endings. I now see my endless curiosities as a vibrant seed bank stocked for the future, instead of a to-do list of things I feel guilty for not actively pursuing. We can trust that all of our soul's true callings will float back to us when the time is right. And it's fun to have a few things to look forward to.
Your turn
How do you feel when you put a passion on the side burner? Do your natural passions always float back to you eventually? Share your stories and tips in the comments.
Doing/being/exploring ALL THE THINGS is easier with a community!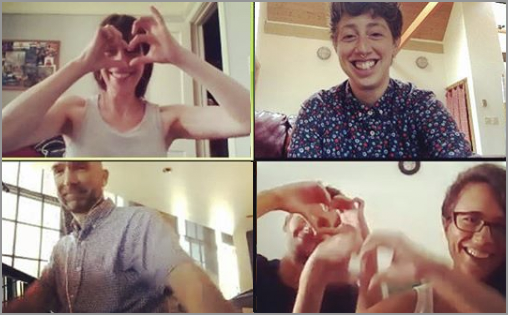 Did you know we have a private community of hundreds of multipotentialites from around the world? We support each other, share advice and cheer each other on as we building lives and career around ALL our passions.
Learn more about the Puttyverse and get notified next time we open the doors: