When I was a kid and I heard Margaret Cho complain about her strict, Asian parents, I was bowled over. It was so relatable, and there weren't many other Asians in the small Texas town I grew up in, so I had no idea this was a shared experience.
Generalizations be damned, Margaret spoke the truth. Doctor, lawyer, maybe pharmacist—these were the occupations expected of me, my brother, and my cousins when we were growing up. You do the One Thing and go to work and shut up and don't embarrass your family. And pull up your pants.
So imagine my mom's surprise when I told her I wanted to move to Los Angeles and be a screenwriter. Try to picture her furrowed brow when my brother said he was switching majors, from pre-med to General Studies, because he didn't know what he wanted to be when he grew up. He still doesn't, and for what it's worth, neither do I. My poor mom—I can still hear her heavy sigh.
But recently my mom shared something with me that I thought was pretty special. "When you moved to California, you said you didn't want to regret not trying something, even if you failed," my mom told me. "It made me realize that not trying feels worse than failure."
"Um, yeah," I said, taken aback at Mom's open-mindedness.
Most people have a handful of different interests and hobbies. As a multipod—someone who actively celebrates that fact and pursues your interests—you might have found that the pursuit has gotten in the way of the specialist lifestyle your family and friends have laid out for you.
Maybe you're planning to leave your stable 9 to 5 job and embark on a new, precarious career. Maybe you're spending a lot of time, energy, and money on making short films, and your family doesn't approve. Whatever the scenario, talking about your multipotentiality can be tricky, especially when the people you love come from a highly specialized background or culture. If you know they're going to be disappointed, you might be reluctant to talk about it with them at all. These three tips might help soften the blow.
1. Have a Plan in Place
While neither of my parents reacted particularly poorly when I told them I wanted to switch careers—there was no yelling, no name-calling—they were still concerned. And even though that concern came from a good place, it could be demotivating. It's hard to finish a goal when the people around you, especially the people you love and respect, second-guess your every move.
Of course, that's what parents do, they worry, but that worrying can be discouraging. It can make you want to give up on your goal altogether, because you're second-guessing yourself, too. To avoid this, I predicted some of my parents' concerns, and thought of every possible argument they might have against my move. You won't have enough money. You won't be able to find a job. You'll have to come back and start over. I had a plan in place for each of those scenarios.
For example, I saved up several thousand dollars of my income for about a year so that I'd have enough money to live on if I couldn't find a job at first. I also negotiated freelance work with my employer at the time, so I wouldn't be completely jobless, and found two other remote freelancing gigs. When I moved, I would have a healthy emergency fund as well as some income. This was prudent for my move, anyway, and it made it harder for my parents to doubt me. After all, this wasn't just some harebrained scheme, this was a plan.
2. Know When to Share
I'm lucky. Despite their worrying, my family is, for the most part, pretty open-minded about my hobbies and aspirations. But let's say your loved ones aren't so open to your multipotentiality. Let's say you're an artist, and anytime you try to pursue your art, your family has something negative to say about it. It might help to talk to it with a family member who might be more supportive or understanding of your pursuits.
For example, my step-dad is a classic multipod—throughout his life, he's been a professional martial arts instructor, a business owner, a security guard, and a musician. Perhaps that's why he was a little more understanding when I told him I wanted to switch careers. He also helped assuage my mom's fears, which made things a little easier for me.
In some cases, I think it's reasonable to limit how much you share about your different hobbies and interests. When I was doing sketch comedy, I kept it quiet from some of my family members who I knew would just say, "Kristin! Why are you wasting your time? Make some money!"
Even when I moved to LA and my family supported me, I had friends who doubted me and told me I was making a mistake. One former coworker emailed me incessantly and said things like, "You're going to move back to Texas with your tail between your legs." It seemed less like concern and more like I was the object of his schadenfreude. Something about my move was hitting a nerve. I stopped talking to him, not because I was in denial about the possibility of failing, but because it's hard enough to get out of your comfort zone without someone egging on your failure.
The point is, not everyone is going to be supportive of your multipotentialite moves, and in some cases, it might be in your best interest to limit your interaction with them.
3. Define What "Success" Means to You
Finally, it helps to understand your own definition of success, and separate it from other people's. For my parents, success was finding a job that paid well. It was buying a house and living a calm, drama-free life. But my definition differs from that quite a bit.
To me, success is about exploring—squeezing every ounce of experience out of life that I can, even if it's dramatic, and even if it's not always happy. And that included pursuing a hobby that had turned into a passion. If I tried to be a writer and it didn't work out, sure, I might feel like a failure—but not nearly as much as I would if I never tried at all.
When I defined for myself what success would be, it was easy to talk about these things with my family because I understood that, even if they weren't fully behind my move, it wasn't because they didn't love me or support me or have faith in me. It was just that we had different definitions of success.
**
I've always envied people who come from families that nurture their creative hobbies and endeavors. As a kid, my best friend wanted to be a gymnast. Then she wanted to take horseback riding lessons. Then she was in band. Not only could her family afford to fund these interests, they also encouraged her to do something new every year. If I ever have kids, I hope that I can do this for them, too.
This makes me wonder if there's a certain amount of privilege in pursuing your multipotentiality. Like a lot of Chinese immigrants, mom had an unstable, underprivileged life growing up. My grandmother moved her children to another country with a single goal in mind: survival. It's hard not to be a specialist when you think about life in those terms.
Like her own mother, my mom wanted her children to land good jobs and build solid foundations for themselves and future generations. When your kid shakes up that foundation with her sketch comedy, her writing pursuits, and her crazy business ideas, it's probably quite scary.
Recently, I asked my mom about this. How did she feel when my brother and I veered from the course she had laid out for us? "I guess we're lucky," she said. "Life isn't just about surviving anymore. It's also about doing things that make you happy."
Your Turn
How do you talk about new pursuits or interests to family and friends who want to see you specialize? Share your experiences in the comments below.
Doing/being/exploring ALL THE THINGS is easier with a community!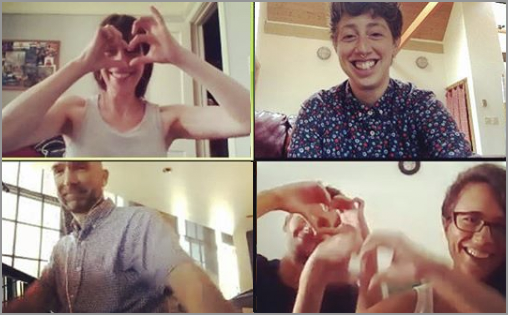 Did you know we have a private community of hundreds of multipotentialites from around the world? We support each other, share advice and cheer each other on as we building lives and career around ALL our passions.
Learn more about the Puttyverse and get notified next time we open the doors: