As part of my ongoing battle to overcome procrastination, I've been working hard on observing what's actually happening inside my head when I feel unable to work. And I've noticed something interesting.
A new project is always a scary time. What if no-one likes it? What if I do it badly? What if…? Well, you get the picture.
Unless we're superhuman, we all struggle with self-doubt. I'm now so used to these fears that I can mostly ignore them.
But there's a more insidious fear that paralyses me more than these standard doubts. It takes me from "can I do this?" to "should I do this?", which is an impossible question to answer for certain. And if I need certainty, I have no option but to get stuck.
The most toxic fear of all
This is the fear that I suspect might be the most toxic fear of all:
What about my freedom? What if I want to do something else later? What if I change my mind?
Freedom is important for everybody, of course. But it seems to be a powerful need for multipotentialites, which makes us even more susceptible to this fear than normal.
The reason this fear is so toxic is that it's a Fully General Fear; it can apply to anything and everything. Once we start feeding it, no activity is immune. This is because it's not about the thing we're choosing to do; it's about the very concept of choosing to do something.
I can think of a few times I've experienced this fear:
Starting a new job or role: Day One in the office is always frightening, but for me it comes with an extra layer of unpleasantness. Part of my brain is convinced I've voluntarily entered a cage, even if I was previously excited for this job.
Signing a contract: Contracts are scary. But, for me, part of the fear isn't what's in them, but the fact I'm signing one at all. What am I signing away here?
Getting accepted to a program (or similar): Even amidst the excitement of getting accepted onto a new commitment – a degree, a volunteer scheme, a local community group – I sometimes feel a sinking feeling of "Oh… Now I have to actually do this. For how long, again?!"
Doing anything at all: Sometimes just putting something in my calendar makes me think, "Well, there's that day gone." Even though I have to spend the day doing something. And I actually want to do whatever it is I've agreed to.
It seems I've over-fed my need for freedom, and inadvertently created a monster!
Hold On… Isn't this just a commitment issue?
No. I don't believe so. Even though this sounds like a classic case of commitment phobia, I think that, if anything, the problem is the opposite: multipotentialites like commitment so much they want to be able to commit to OTHER things too.
We love the excitement of a new interest. And we're aware that initial enthusiasm inevitably fades, and that soon enough a new thing is certainly going to grab our attention. So it's logical to want to be free to commit to that new thing when it comes along.
Multipods love commitment so much that we want to be available to commit to everything.
Of course, maybe some of us do have the standard commitment issues. I can't speak for thousands! But perhaps this alternate way of framing it may help us to avoid a negative self-blame cycle about it. Don't beat yourself up for your own nature.
What can we do about it?
Here are a few ideas of what we might do when we're terrified we're caging ourselves and restricting our future options:
Change the cage itself
Maybe we're genuinely entering a tricky cage to escape. Perhaps that means it's rational to change the circumstances we're scared of entering. Is there a clause in the contract you've been offered that says you have to sell your soul if you sign it?! Maybe the people writing the contract will be open to a gentler renegotiation (perhaps just half your soul)?
Or maybe this four-year course can be tackled in less-scary bitesize chunks. It's always worth taking a look at the options and seeing if we can make the cage a bit less scary.
You can always change later
Very few things are permanent. If we take a job we don't like, we can take a new one further down the line. It might be difficult to revert a decision, but it's unlikely to be impossible. And are we really scared of a little difficulty?
As a multipod, change is probably one of your strengths. It's a paradox that we're often so afraid of change, when picking up new things is basically our home territory.
When we struggle to make a decision, we're normally fighting only our imagination. We imagine we are more limited than we are in reality. Ask yourself – will it be truly impossible to change this decision six months down the line?
If it's not a permanent (or obviously unwise) decision then you can always try it and change later if you're unhappy. And if you're happy: problem solved!
It's GOOD to be "caged"
We can reframe the situation in another way by remembering that unless we commit to something we'll never get anything done.
It's helpful to remind yourself of the reason you're doing this. Perhaps you want the qualification, the job, the money, the contacts, or the sweet sense of satisfaction at having finished something.
Whatever it is, tap into the source of excitement, and remember that without at least some commitment you can't get the reward at the end.
Every other alternative is just a different cage
Someone wise once said that "alternatives exclude."
In other words, whatever we choose, we have to choose not to do everything else. And even doing nothing is a choice.
In a sense, battling this fear entails battling the existential concept of time and reality itself! We have to successfully accept the fact that whichever path we choose there will always be a million others we could have taken. This fear is tied to some deep stuff. (So when you manage to get past it and stick to something, you should feel extra proud.)
But this problem also provides the solution: If there are no options we could take where this fear wouldn't show up, then listening to this fear is never a good option.
I don't know for certain if this is the "Biggest Multipotentialite Fear." (Maybe that's spiders. Or heights. Or taxes.) But it's something I'll be learning to battle all my life.
Your Turn
Do you feel the fear of being caged when starting something new? Do you have any tips for getting past it and committing anyway?
Doing/being/exploring ALL THE THINGS is easier with a community!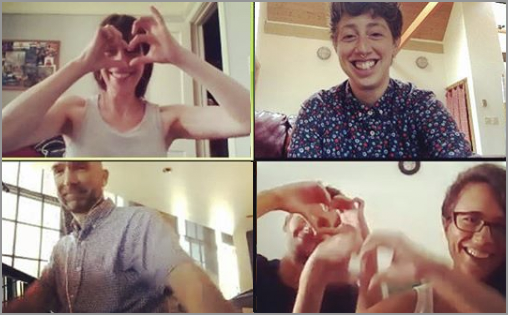 Did you know we have a private community of hundreds of multipotentialites from around the world? We support each other, share advice and cheer each other on as we building lives and career around ALL our passions.
Learn more about the Puttyverse and get notified next time we open the doors: