"Hey, what do you think of this email?" I ask someone in a Slack chat. I copy and paste the reply I want to send to a potential new client. Is it too pushy or not pushy enough, I wonder, and is the rate reasonable?
Within seconds, I get feedback from three other creative professionals who break it down and give me the confidence to hit send.
People pay handsomely for this level of at-your-fingertips advice and accountability, but the truth is, you can build your own small group of like-minded professionals, freelancers, or hobbyists without spending a dime. These groups are commonly referred to as "masterminds." Yes, the term sounds vaguely like a villain in a Disney movie, but self-help author Napoleon Hill defined it as:
"The coordination of knowledge and effort between two or more people who work towards a definite purpose in a spirit of harmony… no two minds ever come together without thereby creating a third, invisible intangible force."
You know that feeling when you're casually chatting with someone and a light bulb turns on, and you both look at each other with an expression that says, "Oh my god, could this be an amazing idea?" That's the spirit of a mastermind group in a nutshell. They've been around in some form for ages. Writers C.S. Lewis and J.R.R Tolkien were in a mastermind group called The Inklings, and Benjamin Franklin had his own mastermind group called the Junto. In his autobiography, Franklin described it:
"We met on Friday evenings. The rules that I drew up required that every member, in his turn, should produce one or more queries on any point of Morals, Politics, or Natural Philosophy, to be discussed by the company."
When you are a multipotentialite, masterminds are incredibly helpful for weaving together your many interests. When I feel stretched thin or pulled in a thousand different directions, my groups have helped me find structure and confidence—whether it's coming up with a schedule for my various gigs or getting started with a totally new pursuit. With all of this in mind, here's how to start your own multipod mastermind group.
Pick a theme
You might be wondering—do I start a mastermind with a few other multipotentialites, or do I start a few separate groups for each of my interests?
The answer is: it's up to you! Personally, I have a few groups: one focused on freelance writing, one focused on business, and one that a friend and I started to conquer our "big scary goals" for the week. It might help you to start slow. You don't need a group for every single one of your pursuits, just the ones that might be a struggle. So ask yourself: What's the one big obstacle in my career right now?
Think about your specific career needs, then start a single group with a theme related to that need. For example, maybe you need help figuring out how to brand yourself when you're doing multiple things—reach out to people who might have similar issues or experience with branding and marketing. Ideally, these will be fellow multipods who understand your added challenges.
Tap your network
First things first, you need people. And you probably don't want to post a random Craigslist ad looking for a partner. Your mastermind group should be somewhat curated with consideration to personality, expertise, collaboration, and skills.
Ideally, you want members you've already connected with in some way so that you mesh when it comes to giving and taking advice. Your group members should respect each other's opinions, feel comfortable being vulnerable with each other, and be at similar levels in their careers (otherwise, there will be an imbalance of give and take). A true mastermind should be a collaboration, not a mentorship (though you should get a mentor too!).
With that in mind, start by bringing up the idea with one person in your professional network that you think would make a good fit. Throw the idea out there: "Hey, we have great conversations about the projects we're working on. How would you feel about meeting regularly to talk shop?"
Then go from there. Perhaps they know someone else who might be a good fit, and your mastermind can grow. But starting with just two people is also perfectly fine. If you don't know anyone at all, try reaching out to groups on forums like LinkedIn or Facebook—or the Puttytribe!
Decide on your structure
Once you've found a few people who want to join, it's time to create some structure. And the structure will vary depending on the group. In one of my groups, we meet every week and take turns bringing up the issue we're struggling with that week. In another group, we try to meet every quarter but mostly just chat on Slack. To establish your own structure, think about how often you want to meet, how long you want to meet, where you want to meet, and how you'll address each member's concerns.
Maybe you can meet monthly around a specific theme. For example, in a writer's mastermind, maybe one month you talk about pitching, the next you talk about branding, and so on. If you decide to take your group to Slack, the platform allows you to have different sub-channels within your group, so you might have separate channels for pitching, promoting, and pricing. If you meet weekly, maybe your structure is to give each person 20 minutes to talk about their main obstacle for the week and get feedback from the other members. It's up to you to set your own ground rules, so get creative with it!
One person should lead the group and ask the other members for their preferred structure, but everyone who agrees to be in the group should be committed to showing up for the meetings— it's important to lay out that expectation from the start. Pro tip: Keep your mastermind group small, otherwise it can be tough to organize so many schedules.
Make it a priority
Some mastermind groups even make it a rule that if a member skips too many meetings, they're no longer in the group. It sounds harsh, but if too many group members flake out to often, it's not really working very well.
To truly get the most out of your mastermind, everyone in the group should commit to making it a priority, not just a fun thing to do if you happen to have time that week or month. If that sounds like too much pressure, maybe you could suggest a less frequent meetup. As long as everyone knows what to expect from the start, you should be on the right track.
A structured, curated group of like-minded people can be a total game changer when it comes to your career or even your passion projects. The comfort of knowing I have a handful of creative professionals I can call on each week—writers, speakers, business owners, authors—is so reassuring as a multipod. When you feel pulled in a thousand different directions, it's nice to have people to help you feel centered.
Your turn
Have you ever been in a mastermind group or a similar network of professionals? How did you curate the group and how did it help with your multipotentiality? Share your thoughts below in the comments.
Looking for other multipotentialites to form a mastermind group with?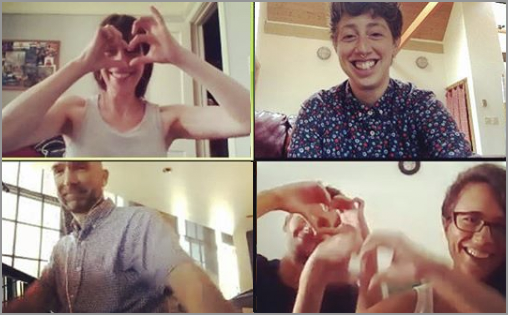 Did you know we have a private community of hundreds of multipotentialites from around the world? We support each other, share advice and cheer each other on as we building lives and careers around ALL our passions.
Learn more about the Puttytribe and get notified next time we open the doors: