Most of the multipods I know are activists and allies at heart. For one reason or another, we seem primed to fight for equality and break down oppressive systems. Maybe it's because we're used to breaking the status quo and fighting for a more robust identity.
These past few weeks, we've been outraged over the ongoing threat and injustice toward Black lives, as evidenced by the recent murders of George Floyd, Breonna Taylor, and Ahmaud Arbery. So many of us took to Twitter and Instagram to share our outrage, support, and resources for taking action—and for once, our social media feeds felt hopeful and optimistic and energizing.
But it's also important to remember that, as allies, these efforts need to be ongoing. After all, not everyone has the privilege of being able to hop in and out of the race conversation.
And this is what often happens with social issues. Well-intentioned people get outraged, fight as hard as they can, spend time on social media, go to protests, get angry. But then life goes back to "normal" and they move on, overwhelmed at the prospect of fighting such a large, systemic issue. To affect real change, however, the fight has to be ongoing.
So aside from setting up regular donations to causes we support, how can we make activism more a part of our everyday lives? This is a question I've been mulling over a lot lately. When I'm fighting for something that I have the privilege of forgetting to fight for, I have to hold myself accountable. Here are a few ways I plan to do that.
Question myself.
Activism doesn't always feel good. Sometimes it's uncomfortable. You might need to confront your boss for saying the wrong thing at a meeting. You may need to have difficult conversations with your family. But being active about fighting for equality also means confronting your own biases, which is perhaps even more uncomfortable. (Harvard's Project Implicit has a series of tests you can take to reveal those biases.) We should always consider the ways in which we may be contributing to systems of discrimination and marginalization.
After all, we can't expect people who don't care about these issues to do anything, so it's really up to those of us who do care to not only see the problems with the rest of the world but also acknowledge our own ways of contributing to inequity. We may be unintentionally making things worse by supporting certain businesses, adding to unhelpful narratives, dismissing people's stories, or not speaking up when family members say racist, misogynistic, homophobic things.
Start small.
Racism is structural and systemic, yes, but it also happens on a smaller scale in our everyday lives—in our communities and families and workplaces. It might show up at work, where your colleague of color is constantly interrupted in meetings. It might be a company you support out of convenience, despite bad business practices that disproportionately affect Black and Brown workers.
When people talk about race, they often throw out platitudes like, "change takes time" or "the best thing you can do is vote" or "it's just such a complicated issue" or "we're all in this together." There's truth to some of those statements, but they can also be used as ways to distance ourselves from taking action. It can be overwhelming to think you can change things on a macro level (although this movement has made great strides), but we often underestimate what we can do on a micro level.
Boycotting a company or bringing up an issue at work won't solve everything, but it is a step toward a solution, and if you care about how your coworkers of color are being treated, you should do something about it. We can look for small ways to be more involved in change in our everyday lives.
Be willing to sacrifice privilege.
The word privilege gets tossed around so often that it can become borderline meaningless, but worse, it's often used as carte blanche for people to say whatever myopic thing they want to say. As someone who writes about money, I see this in the personal finance world a lot—"experts" mention the privilege of having generational wealth, but then continue to dole out advice that's only applicable to people with generational wealth.
Perhaps I've done this, too, so I would like to start thinking about privilege in a more productive way. How can I leverage my own privilege to dismantle systems that are oppressive to others, but more importantly, when do I need to let go of my privilege altogether in order to do that?
If we want to dismantle systems that have oppressed other groups, we may need to give up the benefits we've received from that system in the first place. That might mean standing up to your boss about how they treat a coworker, even if it jeopardizes your promotion. Or it might mean bowing out of, say, a speaking or writing opportunity at an organization with a history of marginalization. Or it might simply mean no longer shopping at brands that exploit their workers despite the fact that it's super convenient.
Too many people don't want to do this, though. I'm admittedly not a huge sports fan, but baseball legend Dale Murphy recently said something poignant along these lines: "If you're a beneficiary of systemic racism, then you will not be able to dismantle it at no cost to yourself. You will have to put yourself at risk. It might not always result in being physically attacked, but it will require you to make yourself vulnerable."
Don't be afraid to be wrong.
For a long time, I failed to speak up about issues like racism because I didn't want to express my opinion the wrong way. I didn't want to say something that might be well-intentioned but problematic. And while it's good to be thoughtful about our words, I'm learning that we can't let our fear of being wrong get in the way of standing up for what's right.
As a biracial Asian-American woman, I've been on a few diversity panels and have noticed the same question always comes up: "As a white person, how can I support people of color and talk about these issues sensitively?" But this is impossible for anyone to answer because it depends on what you plan on saying. The point is, we simply need to try. And if we don't do something the right way and our own unconscious bias reveals itself, we have to be willing to acknowledge it, fix it, and do better next time.
Allyship is not a contest, but in the past few weeks, I've noticed a lot of language on social media treating it as such. I often see people fighting these systems of oppression—misogyny, patriarchy, racism, homophobia—by using the very methods of those systems—shame, judgment, overconfidence, superiority, power. Perhaps in our steadfast fighting against a system that makes people feel small, it's better if we embrace a bit more understanding, empathy, and open-mindedness toward each other. And if we can make empathy a normal part of our everyday lives, maybe that's a way of fighting the system in and of itself.
Your Turn
Fellow multipods, how are you planning to make your activism a part of your everyday life? How will you fight for change on both a micro and macro level?
**
Could you use some supportive multipotentialites in your life right now?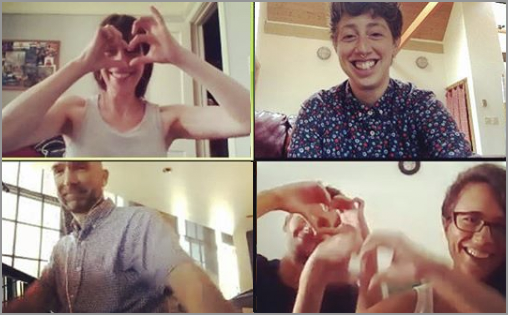 Our Puttytribe community has really come together to help each other out during these difficult times. We're holding extra events and our forum's super lively right now.
Learn more about the Puttytribe and get notified next time we open the doors: