How many jobs should a multipotentialite have? If you only have one job, are you really a multipotentialite?
In How to Be Everything, Emilie describes four work models that multipotentialites use to earn money, find meaning, and enjoy the variety of interests they need to feel fulfilled. Emilie explains that each work model can provide you with what you need to be fulfilled as a multipotentialite, but each in very different ways. As a big fan of Emilie's book, I knew I was supposed to learn that all four work models are authentic to the multipotentialite lifestyle, and that none are better or worse than each other.
But, until today, I didn't really believe that. Welcome to the mind of a recovering perfectionist.
I felt shame about being the wrong kind of multipotentialite…
I have a pattern with this kind of perfectionistic thinking. Not so long ago, I confessed that I was pretty sure that you could be the wrong kind of multipotentialite, and that the only wrong kind was me. Unlike the more noble, pure multipods who pursued multiple interests "just because," I seemed to have an uncanny ability to turn every one of my pursuits that started out as "just for fun" into a credential, a job, or a credential that led to another job.
…but I felt pride about being the right kind of multipotentialite worker
While I felt shame about being the wrong kind of multipotentialite on the inside, I felt immense pride about being what I believed was the right kind of multipotentialite worker on the outside. I faithfully implemented all of my Elder Millennial generation's advice about side hustles and multiple streams of income. Except for investing in real estate. I didn't do that.
If you're anything like me, you might find it too easy to go overboard with the Slash approach: "having two or more part-time jobs and/or businesses that you flit between on a regular basis." (p. 58) Perfectionism can tempt you into accumulating way too many part-time jobs, or into working beyond actual part-time hours at each job until they become unsustainable. I thought the solution was to become a hustler, not a grinder (ugh), but that wasn't it either. This Slash approach to multipotentialite work requires the ability to say no, firmly. As a longtime graduate student, I hadn't learned how to do that. So I burned out. And then I burned out again. Something had to change.
At first, I rejected the idea that a multipotentialite could just have one job
As I tried to find another work model that could really work for me, the only one I rejected outright was the Einstein approach: "having one full-time job or business that fully supports you, while leaving you with enough time and energy to pursue your other passions on the side."
My immediate reaction was: What a waste! Why would I pursue a passion on the side when I could spend that time turning it into a part-time job?
Emilie named this work model after Albert Einstein. In the early 1900s, keeping a full-time job as a patent officer gave Einstein the financial freedom, time, and energy he needed to pursue his passions on the side. When you are Albert Einstein, these passions include developing the theory of special relativity, which is a pretty good way to spend your spare time.
If it was good enough for Einstein, why wasn't it good enough for me?
I secretly feared that surrendering to my need for only one job would disqualify me from my brand-new membership in our multi-passionate community (and possibly my entire millennial generation). Before I had the hindsight to see what I was doing to myself again, I plunged into another needless multipotentialite identity crisis with questions like: Aren't you wasting your potential as a multipotentialite if you only have one job? If no one can tell you are a multipotentialite at work, are you really even a multipotentialite?
Letting go of shame allowed me to authentically embrace the Einstein approach
If I just made you really nervous (or really angry) by asking these questions, you are not alone. In 2019, former Puttylike writer, Kristin Wong, wrote a brilliant article called "Don't Let Anyone Shame You for Having a Day Job." So many readers responded to that article by explaining why they embrace the Einstein approach! I wish I had seen it earlier. Some of you have always known which work model was right for you, while others like me have only recently let go of the shame to finally see the value—and validity—of the multipotentialite work model that is authentically yours.
If you're like me, and overlooked the Einstein approach in the past, here are some questions that might make you want to take a second look.
When it comes to your finances, does stability rank higher than flexibility?
No matter how I try to be more "go with the flow," the truth is that I can't relax into life until I believe I have the financial stability to meet my basic needs. An Einstein-style job can give you the stability you need to feel safe enough to pursue the passion projects that thrill you.
Do you find it difficult to separate your identity from your work?
Until very recently, I never expected to have a life outside my work. Like one Puttylike reader, all my dreams centered around finding the perfect job. We both put all our eggs in the career basket until each of us found that perfect multipotentialite job! This was the Group Hug, which Emilie describes as "one multifaceted job or business that allows you to wear many hats and shift between several domains at work."
Here was the unexpected problem I faced with my Group Hug job: When I believed that I had found the perfect job, I unconsciously decided that I had to become the perfect worker to deserve that perfect, holy-grail of a Group Hug job. My work and my identity became one and the same, until it was my whole personality. And, for too long, I was proud of it. I wasn't aware that the pressure I was putting on myself was once again not sustainable.
Do you struggle with setting boundaries?
I was shocked to discover that there is such a thing as liking your day job too much. Multi-passionate kinfolk who struggle with perfectionism or people-pleasing: I am talking to you. Liking, then loving, then needing my perfect job (including needing to feel needed) gave me an excuse to be consumed by it. I called what I was doing "work-life integration" and absolved myself of any responsibility to put boundaries around my Group Hug job.
You may be tempted to skip past this section because you absolutely do not like your day job too much. I'm here to tell you that this also applies if you actually hate your day job, but secretly know that no one can do your job like you do. If you recognize yourself in this article and you don't like it, it could be time to start delegating tasks to others. They'll never be as good as you, dear multipotentialite, but they will be good enough. If you strongly disagree, it may be time to consider the Einstein approach. I used this work model as my permission slip to choose a job that was good enough, instead of the love of my life. Now I can say "that's enough work for today" and leave it there without guilt or shame.
Do you yearn for a work-life balance?
As a child of immigrants who was also an enthusiastic member of a religious youth program called the "Calvinettes" (no, really), I learned early on that the solution to most things was (more) work. I thought I was being a good Calvinist by believing that seeking pleasure was indulgent, and that I could manage to live life without leisure until I retired. I also used work to manage difficult emotions.
When I was stressed or sad, I used work to distract myself. When I felt out of control in my personal life, I depended on my work to make me feel in control of something again. That was a direct route to burnout yet again. If this was the year you told yourself you would finally get back to that multipotentialite hobby you used to love, the Einstein approach can help.
Does your joy and meaning come from more than just your work?
Embracing an Einstein approach to work has allowed (forced?) me to get a life. It gives me permission to do things I can't quantify in a balance sheet. I'm learning how to enjoy personally meaningful activities as time well spent, even when they don't help me retire earlier or promise me a generous return on my investment. Pursuing passion over payment grants me the freedom to do things badly, and to be unskilled without the pressure to spend extra time becoming good enough at something to earn an income doing it. As my colleague Lisa Aikman says, "Not all hobbies are for mastery."
What multipotentialite work model really works for you?
I chased my one "perfect" multipotentialite job until I realized it didn't fulfill me in the ways I dreamed of. I pursued other passions with such intensity that they too closely resembled yet another part-time job. Perfectionist thinking about the purpose and meaning of work robbed me of the simple joys of doing things for fun. An Einstein work model helps me feel at peace with who I really am and what I really need as a multipotentialite.
As a multipod community, the ways that we work are as diverse as the gifts we have to offer the world. But you are even more than your multipotentialite gifts. Sometimes you will need to summon the courage to advocate for yourself, the human at the center of all those passions and all that drive.
I have learned how important it is to meet our perfectionistic urges and ideas about being the "right" kind of multipotentialite with self-compassion. The truth is that failure is a valuable part of learning. It's ok to get a lot of things wrong about who you are and what you really need as a multipotentialite while you discover a life that feels just right.
Your turn
What did you get wrong about work as a multipotentialite? What work model is currently working – or not working! – for you? What advice do you have for other multipotentialites who might be feeling shame about not being "authentic" enough?
Doing/being/exploring ALL THE THINGS is easier with a community!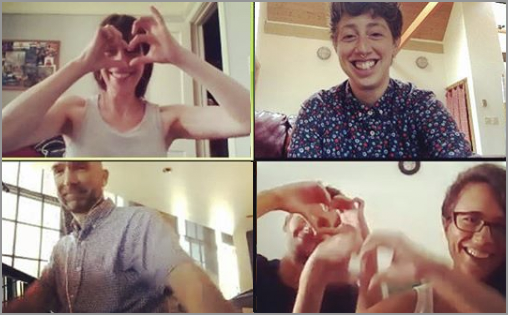 Did you know we have a private community of hundreds of multipotentialites from around the world? We support each other, share advice and cheer each other on as we building lives and career around ALL our passions.
Learn more about the Puttyverse and get notified next time we open the doors: