"We should do a podcast."
"I want to start teaching."

Googles "photography as a side hustle"
"Should we write a script together?"
Readers, this is how I get into trouble. There's so much to do in life and I take massive, mouth-watering bites of it. Later, I realize I've bitten off more than I can chew.
Like many multipotentialites, I always have a handful of different projects going on at once. Some of these projects pay; some of them don't. Some of them are just for fun, and others are necessary for paying the bills. My goal is for them to all come together to create a holistic career portfolio that excites me.
But doing everything sounds lovely until you remember you only have so much time in the week. Whether you're doing them for money, passion, or a combination of both, it can be tough to juggle all these different projects at once. Tough, but not impossible—I hold out hope that you can indeed be everything. Doing so takes some strategy, though. The following methods have helped me juggle multiple projects. Maybe they'll help you, too.
1. Aim for "micromastery"
I've been trying to re-learn Cantonese for a long time. My goal was to master the language and become completely fluent, which I used to be, by the end of the year. But this never happens. Again, I bite off more than I can chew, become overwhelmed, and give up because learning a whole language seems impossible.
Perhaps I should start smaller. Instead of aiming to learn an entire language, I could focus on mastering ten new words a month or five new phrases a week. Author Robert Twigger calls this concept Micromastery. It's learning to be skilled at many small things instead of trying to completely excel in just one area, and it's great for us big-bite chewers. At his blog, Twigger writes:
"A micromastery can be anything from spinning a basketball on your finger, doing an eskimo roll, or making a perfect daiquiri — it is a small, contained and perfectable thing, an activity in a box that nevertheless points to greater masteries out there."
In other words, rather than take on a whole project that you have to fit into your juggling rotation, aim to pick up one small skill, which is still satisfying but much more realistic. For example, instead of committing to learn photography this year, commit to taking a great picture of the stars. You'll still learn photography, but you don't have to commit a massive amount of time, which makes it easier to sample the project to see if it's a keeper or not. Plus, I think this is a much more fun way to go about it.
2. Pick projects that bring balance
It's easier to work on multiple projects if you have the right mix of projects to begin with. If you have too many projects that require the same set of skills, you might risk burnout, like I did last year.
Last year, almost everything I worked on involved writing, from my paid work to my passion projects to stuff I was working on with friends. I had to stop. Writing wasn't as fun as it used to be because I was doing it all the time. So I took a break and jumped into other interests, like podcasting, coaching, and speaking. To offset the burnout factor, I made more time for pursuits that had nothing to do with writing. I even started looking for non-writing-related work to pay the bills so I had more energy for writing as a hobby.
With a career portfolio that includes diverse set of skills, you still have a lot going on, but it's easier to juggle all of it because your portfolio is balanced as a whole. This might not be true for everyone, but it's worked well for me. Curate a list of projects that use a mix of skills and allow you to tap different parts of your brain.
3. Batch your tasks
On the other hand, most projects include a handful of different types of skills and tasks. Let's say you're writing a book. Overall, this sounds like an entirely creative, intuitive project—very "right-brained." That's not entirely true, though. You also use the analytical parts of your brain for the table of contents, overall structure, and plot points.
Batching comes in handy here. Batching is a productivity tool that anyone can use. With batching, you plan your schedule according to tasks, not projects. So instead of checking email throughout the day (which steals your focus every time you do it), you would check it once in the morning, once at the end of the day, and never in between.
It's a fun productivity hack, but I've found it especially useful for juggling projects. For example, in addition to writing that novel, let's say you're also planning a small conference. This may involve some of the same tasks as writing a book. You have to outline the schedule for the event the same way you have to outline your table of contents. You have to write speeches for your sessions the same way you have to write your chapters. So you could batch these similar tasks on the same days so you can maintain your focus.
Remember, multitasking isn't really a thing. When you switch between activities, you lose a little something in the process. Researchers call it attention residue. One 2009 study concluded that "people need to stop thinking about one task in order to fully transition their attention and perform well on another." We like to have closure on one thing before we move onto another. When we don't, we start to feel overwhelmed and we stop performing efficiently. This is another reason why tackling similar tasks at once can help you switch gears more easily.
Overall, you just want to consider the tasks associated with each of your projects, then schedule them in a way that allows you to work most efficiently. This will save you time and energy, two things most of us could use a lot more of.
4. Consider outsourcing
Maybe there are tasks associated with your project that you have absolutely no interest in doing. I'm all for learning new things, but sometimes you try those things and you know they're not for you. For example, I'm terrible at web design, I don't enjoy it, and it takes me five times as long as it takes a professional. So when my publisher asked me to build a website for my book, I outsourced that task.
You might outsource the audio editing for your podcast so you have more time and energy to focus on interviewing. You might outsource the email marketing for your online course so you can focus more on teaching.
Outsourcing typically means hiring someone else, and you can find independent contractors on sites like Upwork or Guru (or just tap your network). However, you might also be able to automate certain tasks required for your projects. Look into tools like If This Then That and Zapier.
5. Know when to quit
Quitting never seems like a good thing, but sometimes it's what you need to do to get ahead.
When I quit my drama class to join the journalism team in high school, my drama teacher told me he "always knew I was a quitter." He was right—I'm a strategic quitter because sometimes quitting is crucial to success. After quitting drama, which I wasn't really passionate about and had no future plans to pursue, I became editor-in-chief of my high school newspaper where I wrote a monthly column and learned skills that I still use in my career as a journalist today. None of that would've happened if I wasn't a quitter. Sometimes—a lot of times—you have to say no to something if you want to say yes to something else.
If a project is dragging you down or going nowhere, then it's actively stealing time from other things you could do. So how do you know when it's time to quit? Sometimes the answer is obvious. Other times you have a long stretch goal with ups and downs, and you're not sure if you should push through it or just let it go.
My colleague Stephanie Lee answered this question in an insightful New York Times piece. One tip was to weigh the cost of the goal against the benefit of reaching it.
Of course, sometimes you don't know the benefit of reaching a goal until you get there. It might feel better than you think, or it might be lackluster. You could commit to reaching a small milestone with your goal or project — getting a small award at a drama competition, for instance — then follow through until you get there. This will give you sample of success to reference before you commit to quitting.
It also helps to know which season you're in with the project. Maybe you don't need to quit altogether. Maybe you just need to take a break to make time for other things.
Finally, don't forget to take a step back and look at the big picture, and do this regularly. Check in with yourself and with your projects to make sure they still matter to you. It's great to focus on the process when you're trying to reach a goal, but a narrow focus can make it easy to forget why you're taking on the project to begin with.
Slowly back away from the work and ask yourself the question, "is this still worthwhile?" Maybe the answer is yes, or maybe it's time to let it go so you can make room for something else.
Now if you'll excuse me, I'm off to do some strategic juggling.
Your Turn
Multipotentialites, how do you handle working on multiple projects at once? Do you have any specific methods or strategies for finding the time (and energy) to do them all?
Get some personalized, multipotentialite-friendly support as you juggle your multiple projects.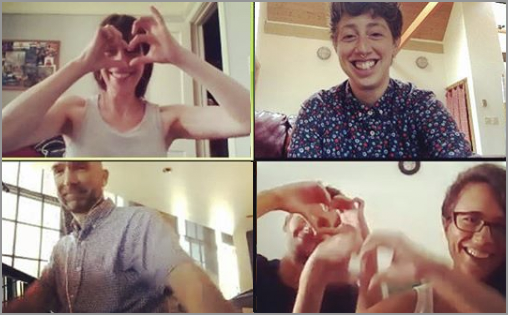 Did you know we have a private community of hundreds of multipotentialites from around the world? We support each other, share advice and cheer each other on as we building lives and careers around ALL our passions.
Learn more about the Puttytribe and get notified next time we open the doors: